This article is more than 1 year old
LG fu**ed off with swearing
Future TV sets to recognise, replace cussing
LG has launched a website where customers can submit their weird and wacky ideas for futuristic TV features, such as a telly that replaces swear words with baby laughter.
Can't see the video? Download Flash Player from Adobe.com
A spokeswoman at LG told Register Hardware that its LGenius website is a portal where "customers can turn their TV dreams into reality".
Several ideas have already been posted onto the site, including a TV with a sponge frame that prevents kids and poorly-sighted grandparents from hurting themselves when they bump into it.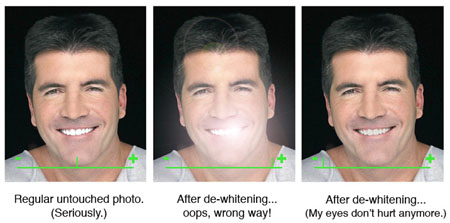 Teeth De-Whitener, also known as Alan Carr-O-Vision
Other suggestions include a "Teeth De-Whitener" feature that allows viewers to dial down the whiteness on people's teeth, and a "Spousal Volume Control" setting that would automatically turn up the volume when the missus starts jabbering during your favourite show.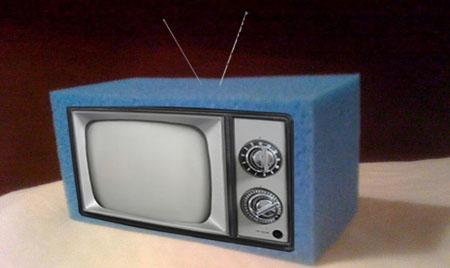 A sponge TV? Now that makes some sense
LG's also created a video that demos how some unique features would work, including its baby laughter "profanity filter". Other demoed features include replacing sad scenes with pictures of cats and a setting that creates family friendly telly by turning any show into a cartoon.
Some of the posted ideas have already been put into development though. For example, one poster suggested using face-recognition technology to switch the TV screen off when the viewer falls asleep, but Sony's WE5 telly already boasts a very similar feature.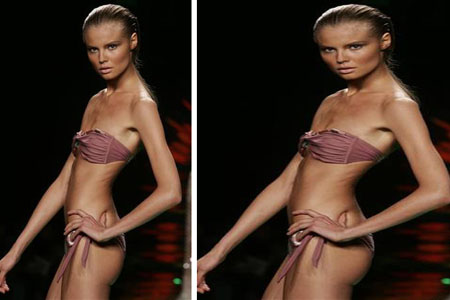 Fatty Vision The Size-Zero Detector would turn the super-skinny into fuller figures
LG told us that it's not actually promising to build any of the suggested features into its future tellies, but has promised to hand out prizes to creators of the very best ideas. Smell-O-Vision, anyone? ®