This article is more than 1 year old
Tesla unwraps Model S
Impressive. Most impressive
'Leccy Tech After months of speculation, Telsa has finally pulled the dust sheets of its eagerly anticipated four-door hatchback, the Model S.
While precise mechanical details where thin on the ground, Telsa did say that the Model S will be capable of an electronically limited top speed on 130mph, a 0-60 time of "well below" five seconds and will be available with a choice of battery packs giving touring ranges of 160, 230 and 300 miles on a full charge.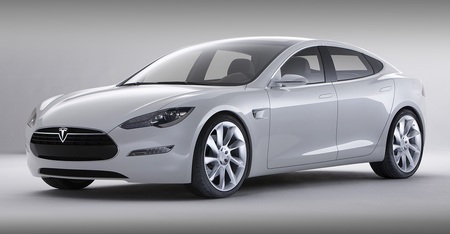 Tesla's Model S: something of the Aston about it?
It will apparently also come with an on-board charge unit that when hooked up to a 480V supply should enable the battery back to be recharged in around 45 minutes. The floor-mounted battery pack has been designed to be swapped out in "less time than it takes to fill a gas tank", so presumably Tesla have been chatting to Shai Agassi's people at Project Better Place about battery swap stations.
Something that attracted everyone's attention was the 17in touchscreen that makes up most of the centre console. It looks the business, but since out-of-line-of-sight touchscreens aren't the best way of accessing controls when you should be keeping your eyes on the tarmac ahead of you, we aren't wholly convinced that that feature will make it to production.
Initial reaction to the styling seems to be that while a handsome enough brute, there's a little too much Aston Martin and Jaguar XF about the S. Our first thoughts were that the nose is reminiscent of a Maserati while the rear has echoes of the Renault Laguna about it. That's not to say we don't like it, though - we do.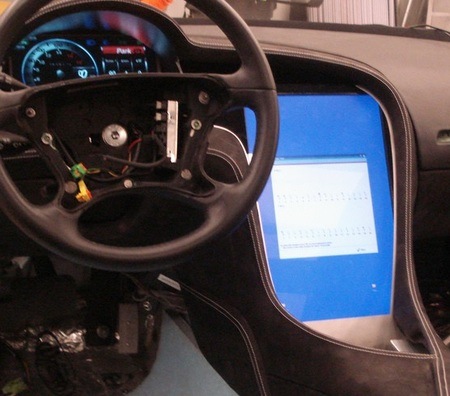 Controlled by touchscreen
Much play was made of the fact that with the battery pack and electric motors all mounted in the floor, the Model S has class-leading interior space, including a second boot where the engine would sit in a similar-sized petrol-driven saloon. With the rear seats folded, Tesla reckon the Model S can take a 50in flat-screen TV, a mountain bike and a surfboard all at the same time.
"The Model S doesn't compromise of performance, efficiency or utility – it's truly the only car you need," gushed Tesla CEO Elon Musk, whose SpaceX rocket facility in Hawthorne, California was the venue for the Model S launch.
If all goes according to plan and Tesla gets the $350m (£240m/€258m) in federal loans it is expecting from the US Department of Energy's Advanced Technology Vehicle Manufacturing Programme – which it needs to build a factory to nail the car together in – then the Model S will be available to purchase sometime in late 2011.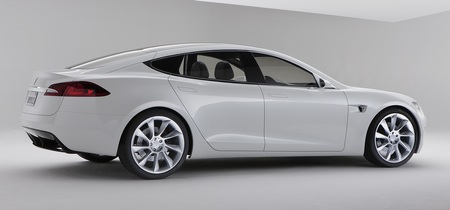 Decent range, amazing storage space
The cost? $49,900 (£34,200/€36,700) for the base model after the federal 'leccy car tax credit of $7,500 (£5154/€5525).
While cooing over the Model S Tesla also let slip that it plans to open a showroom in London later this year. ®