In the latest we-can-render-bigger-special-effects-movies-than-you vendor story, HP is going for the Oscar nomination with DreamWorks' Monsters vs. Aliens. Yet networked HP storage was rejected because it slowed rendering down. IBRIX Fusion software was used instead.
Monsters vs. Aliens made tremendous demands on the movie-rendering IT infrastructure. HP says "audiences will experience monsters that move like liquid, whose arms and mouths disappear, and whose bodies are transparent...[It] required more than 40 million computing hours to make – more than eight times as many as the original Shrek and nearly double what it took to create Kung Fu Panda."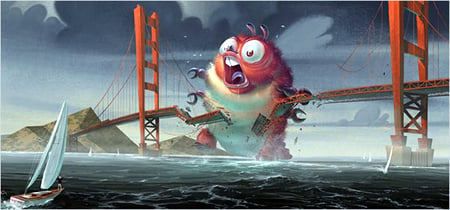 Monsters vs. Aliens shot.
Ed Leonard, chief technology officer at DreamWorks Animation, said: "HP's unique ability to deliver advanced technical tools that help to eliminate creative limitations has allowed us to dive head-first into the exciting storytelling capabilities of stereoscopic 3-D."
Stereoscopic films require rendering separate left- and right-eye images, which meant that rendering requirements for Monsters vs. Aliens doubled those of its non-stereo predecessors.
Naturally, according to HP, DreamWorks needed "the unprecedented power of HP workstations, HP ProLiant blade servers and other HP technology." But not HP SAN storage, oddly. In fact, no SAN storage at all. DreamWorks renderers used several hundred HP xw8600 Workstations for editing and the largest and most powerful render farm grouping of HP ProLiant blade servers (which worked in concert to process the animation sequences) ever used by DreamWorks Animation.
DreamWorks had to render more than 30 sequences in the movie that would have taken more than 1,000 years to render on a single workstation. One of the most technically challenging sequences of the film involved a flyover of a town, including houses, hills, and trees. In this shot, the background trees had to be broken up into more than 300 layers to render.
One explosion in one of the battle scenes required more than 3TB of disk space alone. The rendering process also had to bridge 300 physical miles; HP's Halo telepresence system and its Remote Graphics Software allowed creative collaboration between artists located in studios in Glendale and Redwood City, California.
HP says nearly 100 terabytes of disk storage were involved. Unfortunately, it's not HP SAN storage. DreamWorks wanted to buy its storage cheap, but not compromise performance. It thought direct-attach server storage was cheaper than SAN storage. So, it bought ProLiant DL385 servers with MSA70 disk shelves and IBRIX Fusion file servers, a clustered storage head that runs the Fusion global namespace software.
This HP-IBRIX architecture was a key technology element in the studio's pioneering stereoscopic 3D animated film format used in Monsters vs. Aliens.
This scale-out network-attached storage (NAS) file software had to provide access to millions of files, with, for example, more than 17 million in a single rendering working set. In the event, the parallelised file serving software enabled DreamWorks' artists to do things up to five times faster. (See an ESG report on Ibrix here (pdf).
DreamWorks is IBRIX' first partnership with HP and it hopes that it will encourage more customers, currently using Fibre Channel SAN fabrics, to move from SAN block access to parallelised file access, and get the benefits of both faster performance and cheaper disk storage. ®
Similar topics