A satellite picture has been released showing what appears to be a large three-stage rocket stack erected by a gantry in North Korea, confirming news reports indicating an imminent launch.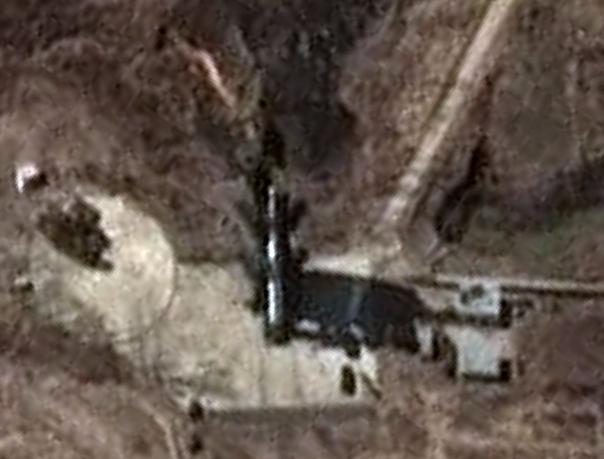 Rattling a sabre has become very expensive. Credit: DigitalGlobe
The image, released by commercial satellite Earth-imaging firm DigitalGlobe, shows the North Korean launch gantry at Musudan-ri, where the country's larger missiles and rockets are test fired. In commercial satellite images produced in recent months, the gantry has stood empty: but in the DigitalGlobe image - taken yesterday - a large multistage rocket is clearly visible.
According to the widely-respected analysts at Globalsecurity.org, the picture:
...clearly confirms recent NBC News reporting from [US defence] officials that North Korea was in the process of loading the first two lower stages of the rocket.

The service-level swing arms appear to be rotated away from the launch vehicle. The loading of liquid fuel from nearby fuel storage buildings and final check-out procedures could take place in the next few days.
The US government, with access to more detailed pictures from dedicated spy satellites and/or other sources, will have a clearer idea of exactly what rocket is on the pad and of North Korea's progress towards a launch. The US has previously warned Pyongyang against such plans, saying that this is a missile test and as such a destabilising piece of sabre-rattling.
For its part, the North Korean regime argues that in fact it plans only to launch a peaceful satellite into orbit as any nation might.
Both the US and Japan have deployed warships equipped with SM-3 ballistic missile interceptors to the area. However, Secretary of State Hillary Clinton has said there are no plans to interfere with a North Korean launch; this suggests that the warships will only shoot if the rocket's trajectory appears to offer a threat to Japan. North Korea has previously test-fired a shorter ranged missile across Japan into the Pacific.
The technologies required to place a satellite into orbit and those necessary to carry a nuclear warhead across intercontinental ranges are very similar. North Korea's "Taepodong-2" rocket design is thought to be potentially capable of either mission if suitably configured. However, it has previously been test-fired only once, on which occasion it blew up shortly after liftoff.
Furthermore, while North Korea is widely believed to have the materials and knowhow necessary to build a functioning atomic bomb - and in some quarters to have carried out a successful test - not many analysts believe it can yet build one which could be carried by an ICBM.
With reference to the now-imminent rocket test, according to Globalsecurity.org: "Based on [this] imagery alone, it cannot be determined whether this is a Taepo-dong ICBM or a space launch vehicle carrying the Kwangmyeongseong-2 (Lodestar) satellite payload." ®