Unfortunately, that handy list of supported video files doesn't mean you get a Cowon-like ability to play near enough anything you throw at it. Files must be at the native screen resolution or lower – anything above you will find yourself looking at the words 'Format Not Supported' - while WMV files must be WMV 3 or better.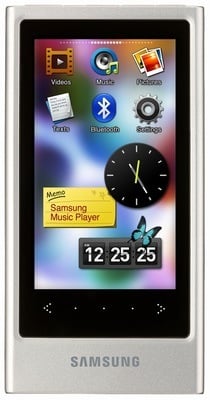 Widgets abound
At 185ppi versus the Cowon S9's 166ppi and iPod Touch's 163ppi, the P3's screen proved capable to showing bright, crisp and clear video though having what looks like only a 256,000-hue colour palette rather than the S9's 16 million does limit its absolute video fidelity.
Our P3 wasn't too happy with video files with a higher aspect ration than 16:9 either, presenting everything as full screen with no option to view in the original format which resulted in our 2.35:1-format videos looking squashed.
There's better news on the audio side of things, the P3 being the first Samsung music player we have encountered that actually recognises the ID3 tags on Flac files and so allows users to build a unified music library irrelevant of file format. As long as you load your Flac and Ogg files onto the device with the PC Connect set to USB Mass Storage, everything works swimmingly.
On the subject of matters UMS and MTP related, the presence of a switch for PC connection type means you can load content onto the P3 from Mac and Linux machines as well as Windows PCs, a hoop Samsung's recent Q1 media player wasn't capable of jumping through.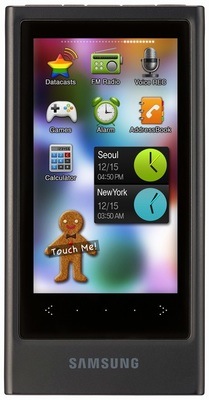 More widgets
The P3 also supports PlaysForSure DRM, so video downloads from BBC's iPlayer work as nature intended.
Sponsored: How to simplify data protection on Amazon Web Services