This article is more than 1 year old
HP Mini 2140 netbook
VIA out, Intel Atom in
Given the relatively high price of the Mini 2140, we expected to see features such as Bluetooth and 802.11n Wi-Fi included as standard, and they are. But with HP aiming the 2140 at businessfolk, we were hoping for an integrated HSDPA 3G module – sadly you'll have to stick to a dongle if you want mobile broadband.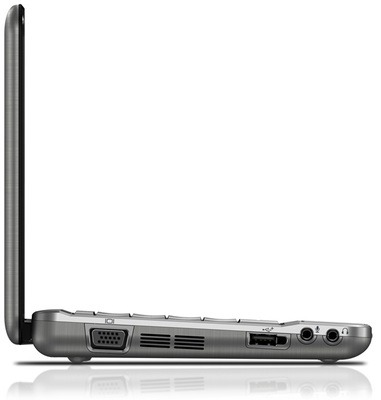 Standard netbook ports on the left...
Along with the switch to a larger, 10.1in screen, HP has dumped the 1.2GHz Via C7-M processor that struggled to keep the 2133 above water. In its place is a far more netbook-friendly Intel Atom. It's not the new N280 as found in Asus' Eee 1000HE, but the N270, which powers the vast majority of netbooks. This shouldn't leave you in too much of a cold sweat, though, since the difference between the 1.6GHz N270 and the N280 is a mere 60MHz.
HP currently offers three versions of the Mini 2140 to UK customers, with the major differences being the operating system and memory. Vista Business with 2GB of DDR 2 Ram costs £447. Vista Basic and 2GB come to £386, while XP Home and 1GB is the cheapest, at £361. In line with HP's statement earlier this year, there's no Penguin-flavoured version for the UK market.

...but with an ExpressCard 54 slot on the right
It's also worth pointing out that our review unit had a couple of anomalies. While all current UK models run off a 5400rpm hard drive, our sample had a 7200rpm HDD, rare enough on a laptop, let alone a netbook. It also featured 2GB Ram and XP Pro as the OS. Since you can't actually buy this configuration in the UK, our verdict is based on the 1GB XP Home version.
HP has gone with a glossy display for the 10.1in screen. It doesn't do much for outdoor use, but it's bright and, as is always the case, colours look far more vibrant than they are on a matte screen. Using HP's "Illumi-Lite" technology, it's LED backlit, which gives battery life a helping hand. There's also a webcam embedded into the screen's bezel, though being only 0.3Mp it won't produce a totally flattering self portrait.

More front than Blackpool
HP has opted for a 16:9 resolution of 1024 x 576, which is slightly below the netbook norm of 1024 x 600. Screen resolutions always provoke lively debates – some users enjoy cramming multiple windows into a high-res version, others hate squinting at minute icons. For us, though, a 10in screen should have a higher resolution than this. There is talk of a 1366 x 768 version hiding just around the corner, but no UK release date has been set as yet – a shame, since it would make the 2140 far more tempting.