This article is more than 1 year old
HP Mini 2140 netbook
VIA out, Intel Atom in
Given the Intel Atom N270, the 2140's score of 1471 in PCmark's CPU test didn't come as a surprise – all other N270-based netbooks we've looked at posted a very similar score. Asus' N280-driven Eee 1000HE topped this by 76 points, but, benchmarks aside, you're simply not going to notice this difference during everyday use.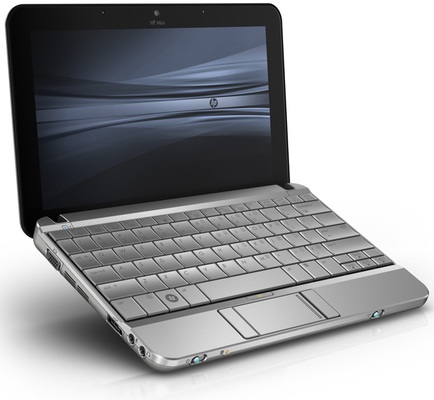 Shorter-than-standard glossy screen
HP's decision to send us a 2GB model didn't have any impact in the memory test, with the Mini 2140 actually coming in a little behind most 1GB netbooks with a score of 2360. In the HDD test that non-standard 7200rpm hard drive did make a difference. Clocking up 5764 points, the Mini 2140 we had on test clearly beats the 5400rpm competition. Of course, we should reiterate that, at present, you can't actually buy the Mini 2140 with a 7200rpm hard drive in the UK. We'll post updated results as soon as we get hold of the 5400rpm version, which will no doubt bring the 2140's HDD score in line with the majority of netbooks out there.
We also ran our usual Gimp test, with the Mini 2140 managing to apply the Gaussian Blur in an average of 5.2 seconds – pretty fast, and comparable with models such as the Samsung NC10 and Toshiba NB100.
Battery life with the included three-cell battery isn't great, with the Mini 2140 managing to play our standard-definition video for 142 minutes before crying out for the mains. This is a reasonably intensive test, with Wi-Fi switched on throughout, so you can expect a longer runtime during less strenuous use. That 7200rpm hard drive on the 2140 will also have had an adverse effect on battery life, though not a huge one – again, we'll post updated results with a 5400rpm drive as soon as we have them. One thing's for sure, the result doesn't compare well to the cheaper Samsung NC10 that managed 257 minutes with the six-cell battery that comes with it as standard.
Finally, a common complaint with the Mini-Note 2133 was that it ran far too hot on the underside. Thankfully, HP seems to have addressed this, with the 2140 managing to retain a delightfully cool posterior throughout our rigorous testing process.
Verdict
So where does the HP Mini 2140 sit in the netbook hall of fame? Well, pretty close to the top as it happens. We love the keyboard, its lightweight nature and robust design. It is, however, a little on the pricey side compared to the competition. Both the Asus 1000HE and Samsung NC10, for example, are similarly specified, yet cheaper and offer better battery life. And it's the Mini 2140's price tag and performance away from the mains that ultimately stops it scoring higher – at £361 we were hoping to get the six-cell battery included as standard. That said, those who adored the Mini-Note 2133's keyboard may find this more powerful version simply too tempting to resist. ®
More Netbook Reviews...
| | | | |
| --- | --- | --- | --- |
| Asus Eee 1000HE | Fujitsu Siemens Amilo Mini | Lenovo IdeaPad S10e | Samsung NC10 |

HP Mini 2140 netbook
A good update maintains the cool looks and great keyboard, but we expected more for the money.
Price:
£361 (XP Home, 1GB Ram), £386 (Vista Basic, 2GB), £447 (Vista Business, 2GB) RRP