The Israeli armed forces have announced plans to double their existing force of robot bulldozers, after unmanned "Black Thunder" droid diggers apparently covered themselves with glory during the recent Gaza incursion.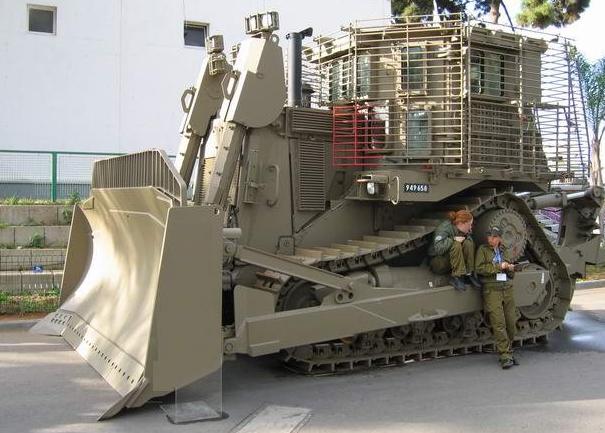 An IDF killdozer in a quiet moment.
According to the Jerusalem Post, the Black Thunder unmanned version of the existing D9 combat dozer was developed in secret by the Israel Defence Forces (IDF) Engineering Corps. It has apparently only recently been declassified.
"The unmanned D9 performed remarkably during Operation Cast Lead, clearing roads of mines and explosive devices," an unnamed IDF officer told the paper. "The unmanned version is important since if there is a concern that an area is loaded with mines it can save lives."
The regular D9, from Caterpillar, is an imposing brute. It weighs nearly 50 tonnes - reportedly more than 60 with IDF armour - boasts better than 450 horsepower, and is generally equipped with a normal bulldozer blade at the front and a "ripper" delving tool at the back. The Black Thunder unmanned version is fitted with cameras and remote actuators, and can operated unmanned or with a driver as may suit.
The mighty machine has already attracted negative publicity in IDF service: its use for house demolitions in Gaza and elsewhere has drawn criticism from human-rights groups. But the IDF think it's great, and they like the Black Thunder so much that the Jerusalem Post says Major-general Avi Mizrachi (CO of the Ground Forces Command) is considering setting up an extra battalion of robodozer-equipped troops.
Chillingly, a Caterpillar D9 starred in the 1974 TV movie Killdozer, in which a bulldozer possessed by a demonic intelligence attempts to wipe out an isolated construction crew. Those who have read the short story which was adapted for the film will know that the machine should strictly have been a D7, but no matter.
It's plainly time to reach a mutual-defence agreement with the 600-tonne godzilla lorries while we still can. ®
Similar topics