This article is more than 1 year old
Canon i-Sensys LBP3100
Cheap and better than cheerful
Review Laser printers have been nudged out of the personal, one-per-desk market by the continued growth of inkjets. For straight black print, though, there's nothing to touch laser copy, and Canon has fortified its entry-level mono laser range with the i-Sensys LBP3100, a small machine with a couple of interesting design tweaks.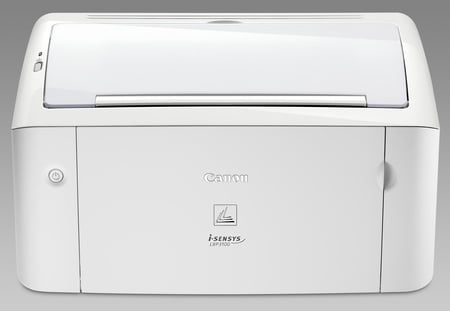 Canon's LBP3100: stylish and compact
For starters, the LBP3100, one of the smallest printers in the i-Sensys range, has a footprint when closed similar to that of a 15in laptop.
Decked out in ice-white, with a glossy white lid and pull-down cover at the front, the printer looks unprepossessing, but because of that it fits in easily with most home and office decoration.
To print, the machine has to be opened up, and the lid folds forward to become the output tray. The front folds down to become a 150-sheet feed tray, but the clever part is that there's a hinged cover behind the front panel, which folds out to cover and keep dust off the paper. Many personal printers have separate covers for their feed trays, of course, but most are separate fittings which have to be stored independently when the printer is closed.
Controls and indicators are sparse, with a single green LED for power and data, set to the left of the top cover, along with a Resume button. The main power button is in the front panel. At the back of the machine is a single USB socket, the only connection provided.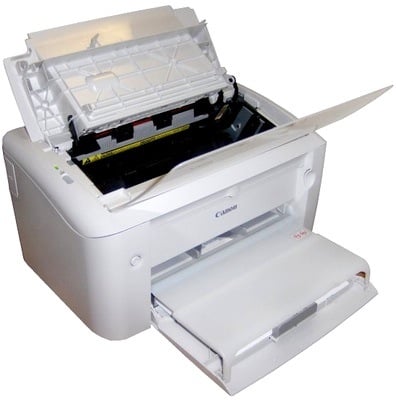 Th integrated drum and toner cartridge is easy to load
Setup and installation are straightforward, as the combined drum and toner cartridge slots in easily through a hatch in the printer's top surface and requires minimal priming before it's ready to print. Software support consists of a driver which provides multiple pages per sheet, but no support for watermarks or overlays.