This article is more than 1 year old
Atlantis trundles to Kennedy launch pad
Hubble mission go for 12 May
Space shuttle Atlantis yesterday morning arrived at Kennedy Space Centre's Launch Pad 39A (see pic), having taken around five hours to trundle the 3.4 miles from the Vehicle Assembly Building.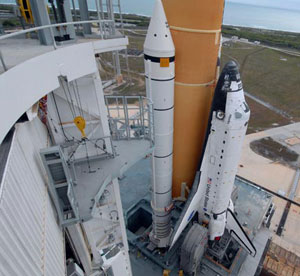 The spacecraft is slated to blast off on 12 May on STS-125 mission to the Hubble Space Telescope. This final 11-day servicing trip, aka "Servicing Mission Four", will feature five space walks during which the crew of seven will "will install two new instruments, repair two inactive ones and replace other Hubble components".
These include the new Cosmic Origins Spectrograph and Wide Field Camera 3, plus a refurbished Fine Guidance Sensor (more details on these here). The Atlantis crew will also fit a replacement Science Instrument Command and Data Handling Unit - the venerable piece of computing kit whose failure last September knocked back the mission.
NASA summarises: "The result of the upgrades will be six working, complementary science instruments with capabilities beyond those now available and an extended operational lifespan of the telescope through at least 2014."
On board Atlantis will be (pictured below, left to right) mission specialists Michael J Massimino and Michael T Good, pilot Gregory C Johnson, commander Scott D Altman and mission specialists K Megan McArthur, John M Grunsfeld and Andrew J Feustel.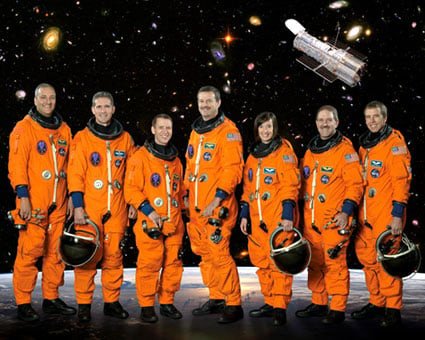 Space shuttle Endeavour, meanwhile, is scheduled to move to Kennedy's second launch pad, 39B, on 17 April and "will be prepared for liftoff in the unlikely event that a rescue mission is necessary following Atlantis's launch".
Once Atlantis has returned to terra firma, Endeavour will transfer to pad 39A ahead of its STS-127 mission to the International Space Station. The shift is, NASA explains, "to minimize the impact on the Ares I-X test flight which will use Launch Pad 39B later this year".
STS-127, now pencilled for a mid-June launch, will carry the Kibo Japanese Experiment Module Exposed Facility, Kibo Japanese Experiment Logistics Module - Exposed Section and Integrated Cargo Carrier to the orbiting outpost. ®