US federal boffins, in charge of archiving colossal streams of data from automated sky-scanning telescopes around the world, are pleased to announce their new "Project Deep Sky" astro data cloud portal thing.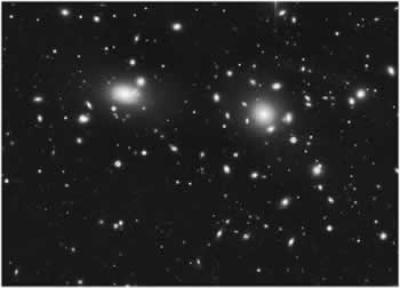 Ah - that's what it was! Some stars
The database in question is the astronomical one run by the National Energy Research Scientific Computing (NERSC) Center, handled by computer boffins at the Lawrence Berkeley jolly-difficult-physics lab.
"The whole concept of this project is to efficiently streamline access to massive amounts of data on NERSC's computers, basically providing a nice portal to astronomy data that we have acquired over the years," says Peter Nugent of the Computational Research Division of the Berkeley lab, Deep Sky project lead.
According to the Berkeley IT team, right now 8,000 large astronomical images stream into the NERSC files every night: and the number and size of these increases all the time as more sophisticated telescopes and instruments come on line. According to the data boffins, their NERSC Global File (NGF) system's contents rose through 100 terabytes last year and will pass one petabyte (1015 bytes*) by 2011. For Project Deep Sky, much of this info had to be got off previous, unsearchable tape archives and processed so that different pictures of the same piece of sky could be accurately overlaid.
"One of NERSC's overriding goals is to help scientists store, process, manage, search and retrieve the ever-vaster data sets that are being produced in almost all areas of science," says Cecilia Aragon of the Berkeley Data Intensive Systems Group, software lead for Deep Sky.
Apparently it's very handy to be able to overlay or cross-reference lots of pictures of the same piece of sky, as it lets you discover transient objects like supernovae, passing asteroids etc. It can also let a crafty skywatcher detect otherwise invisible or hard-to-spot static objects, as photons pile up over time in an aggregated image - so revealing light sources which would otherwise be invisible.
"Co-adding a variety of pictures of the same piece of sky not only allows us to better see faint objects, it also allows us to spot changes in the sky. If a bright spot has moved from one image to the next, it could be an asteroid, comet or planet; if a spot appears in a few images and then disappears, it could be cosmic event like a supernova," says Nugent.
The Berkeley computer brains say they have a prototype of Deep Sky up and running - the full system is expected to go live "later this year". There's more from them here, and more detail on NERSC's IT systems can be seen here (pdf). There's also more from Nugent here. ®
*Or 250, some say. The Berkeley people don't specify.