Yahoo! stacks big, purple mobile pack
Feel the width
---
Yahoo! launched a new version of its mobile page today, stacking nearly every Yahoo! service along with other popular web utilities into a tall drink of web portal.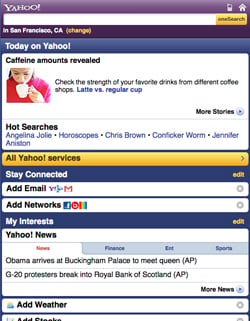 The new Yahoo! Mobile has also been rolled into a new application for the iPhone - which is quite similar to the website but divides the action into separate screens.
Yahoo!'s new mobile hub is a customizable mash-up of search, news, email, social networking, calendar, messenger, address book, weather, and RSS feeds.
Check out the website here.
At the top of the totem portal is Yahoo! oneSearch, the company's mobile search system that can base its results on the user's location.
A notch down Yahoo!'s top news stories, "hot searches," then an large selection of Yahoo! and third-party services to add to the pile.
The non-Yahoo! selection includes Facebook, Flickr, MySpace, YouTube, Twitter, and Bebo. The page can also hook to Yahoo! Mail, Hotmail, Gmail, and AOL Mail too.
The more a user adds to the site, the longer it gets. That means adding things like a lot of RSS feeds is liable to make for some heavy, heavy scrolling work.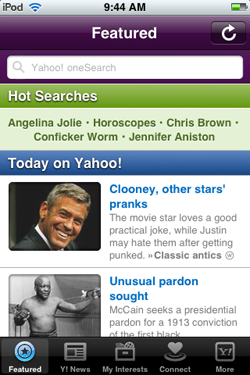 On the iPod app side of Yahoo! Mobile, the web company gives mercy to the V-scroll by pushing its content into separate categories.
The first two are a bit redundant, splitting news into two sections, "featured" news and "Y! News." The main difference, it appears, is featured fare leans more towards celebrities and sports.
Next on the menu is "My Interests," which first prompts the user what they're interested in (and current location) and tries to come up with a list of relevant links to stitch to the page.
Fourthly, there's a "connect" menu which links the user to mail, messenger, and social networking apps.
The final menu is titled "more," for Yahoo!'s multitude of miscellaneous apps like driving directions, calendar, finance and movies.
Preview of iPhone/iPod messenger
Yahoo! also is offering a sneak peak of the upcoming Yahoo! Messenger app for iPhone in the form of a short video tour.
It's basically, what you'd expect for mobile IM - with a few frills like being able to stay logged on in an idle state when using other apps on the iPhone.
Hope you like rancid Yahoo! purple. ®