This article is more than 1 year old
Apple Mac Pro
Goes like the proverbial off a shovel
Review The recent updates to Apple's iMac and Mac Mini desktop systems rather suggested that the company was treading water. Both machines sported new graphics chips and faster system buses, but their processor speeds had barely changed and there was a steady trend towards higher prices that suggested Apple was planning to weather the recession by padding its profit margins as much as possible.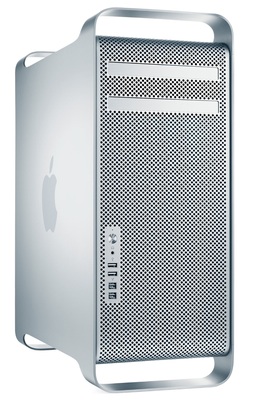 Apple's Mac Pro:
The profit margin on the new Mac Pro can't be that bad either, but Apple's early adoption of Intel's latest quad-core, 64-bit 'Nehalem' Xeon 5500 processor does represent a significant step forward for a machine that's only had one other upgrade since its launch back in 2006.
At first glance, the new Mac Pro looks identical to its predecessors. The gleaming aluminium tower design is unchanged. Forget the diminutive Mac Mini and the slimline iMac – this is a full-scale tower chassis that would gladden the heart of any PC fanboy. It measures 500mm high, 200mm wide and 475mm back to front. Those handles moulded into the top panel are there for a reason: the unit weighs in at close to 20kg.
The perforated front panel is adorned with a power switch, two USB 2.0 ports, two Firewire 800 ports and a headphone socket. There's also an 8x DVD burner and a spare bay for a second optical drive. Round the back of the machine are three additional USB 2.0 ports and two more Firewire 800 ports, as well as inputs and outputs for both digital and analogue audio, two Gigabit Ethernet ports, and both DVI and DisplayPort video connectors.
And, uniquely in the Mac range, the Mac Pro also has three PCI Express slots that can be used to upgrade the system - two PCIe x16 and one PCIe x4 - as well as three additional 3.5in drive bays for adding extra storage.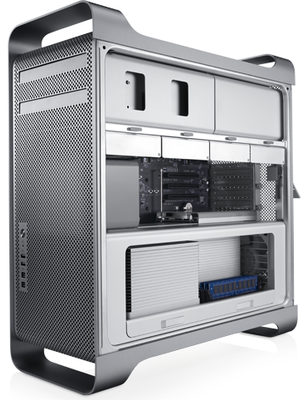 Easily accesible interior
We have to admit that we were rather impressed that the machine didn't crash when we accidentally opened up the wrong drive bay and pulled out the hard disk by mistake. We just slotted the disk back into place and the machine seemed to carry on without a hiccup. But, as impressive as that was, we can't help thinking that it'd be a good idea to let people screw the main system disk into place when idiots like us are around.