'Leccy Tech The number of China-related 'Leccy Tech stories seems set to increase. Why? Because the Chinese government apparently wants to see 500,000 – yes, half a million – hybrid and electric cars and buses roll off the nation's production lines by the end of 2011.
Last year, China produced 2100 of them, making that a dizzying rate of increase.
Beijing's enthusiasm for the EV isn't hard to understand. They will help clear up the inner city smog that - post-Olympics - most of the world thinks blights every Chinese urban area. The move will also help reduce China's dependency on imported oil.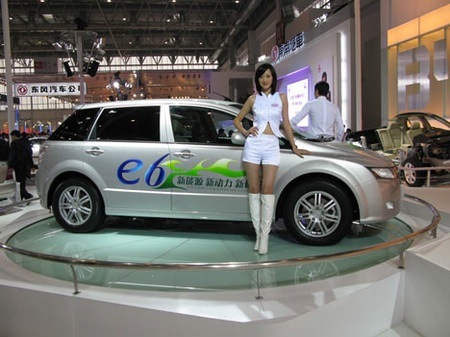 China's BYD shows off e6: rather more of them on Chinese roads soon?
Of course, the switch to e-cars may also result in more smoke and noxious gases being pumped out by the coal-fired power stations that generate the bulk of China's electricity, but - hey - one bridge at a time.
The early switch from petrol and diesel to electricity could give a leg up to China's home grown car makers, including BYD, Brilliance, Chery and Roewe. After all, why bother working on competitive petrol and diesel models when you can just skip a generation and start work developing the sorts of cars we may all be driving in 10 or 15 years' time and come out ahead of the game?
The Chinese government's seriousness about all this was signalled by the appointment in 2007 as Minister of Science and Technology of one Wan Gang, a Shanghai-born auto engineer who spent several years working for Audi in Germany and who later became the chief scientist for the Chinese government's research panel on electric vehicles.
Not only is Wang a petrol head who has worked abroad but he isn't a member of the Communist Party. Not so many years ago, having a technocrat who wasn't an apparatchik in such a senior post would have been unthinkable.
Beyond encouraging Chinese car makers to develop and build hybrids and EVs, Beijing is also offering subsidies of up to $8800 (£6000/€6600) to taxi fleets and local government agencies in 13 Chinese cities for each hybrid or electric vehicle they purchase, the New York Times reports. The state electricity grid has been ordered to set up electric car charging stations in Beijing, Shanghai and Tianjin.
So does this mean we will be driving 'leccy cars with a copy of the Analects in the glove box soon? Probably not.
Chinese car makers are largely forgoing lithium-ion batteries in favour of less powerful, heavier, but also cheaper, and - in a land with a less-than-stellar reputation for built quality – safer chemistry types. With Chinese car buyers – 80 per cent of whom are buying their first vehicle - statistically neither going very far nor fast that's not an issue for the domestic market but will likely be a serious drawback when it comes to selling them to private users in developed Western markets.
The Chinese also need to work out how to get their indigenous designs through increasingly stringent crash tests, such as the Euro NCAP. Results so far have been just a little on the terrifying side.
But the second and third and generations of Chinese electric vehicles? That may be a very different story.
The opening of the Shanghai Motor Show on 20 April will give us all a better view of the e-cars being planned by the major Chinese car makers. Brilliance has already let slip that it plans to unveil a new electric car at the show. ®
Similar topics