G20 Summit: All the action caught on camera
Our man braves London's riot-ravaged streets
---
While Obama and Gordo were (finally) chewing the fat, our snapper caught a moment of high tension down in the Mall: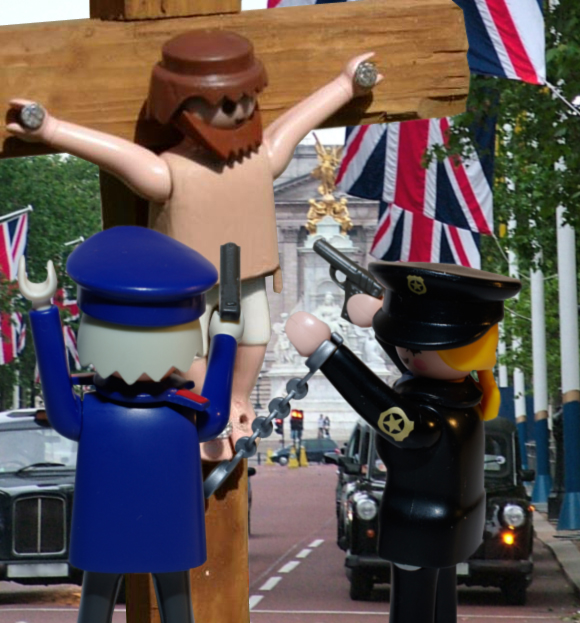 Two armed officers have just ordered Jesus down from the cross, not on the grounds that his crucifix-based protest against former RBS supremo Fred the Shred's hefty pension poses a threat to traffic, but rather that his disciples illegally used a hairdryer to coax his arms into the required position.
We gather he was subsequently let off with a caution, having signed an agreement with Playmobil lawyers that he would in future appear only as God intended.
Our man's last snap, captured just seconds before he was cuffed under the Prevention of Paedophile Photographers Act (there was a primary school within ten miles, officers later explained), is his most dramatic: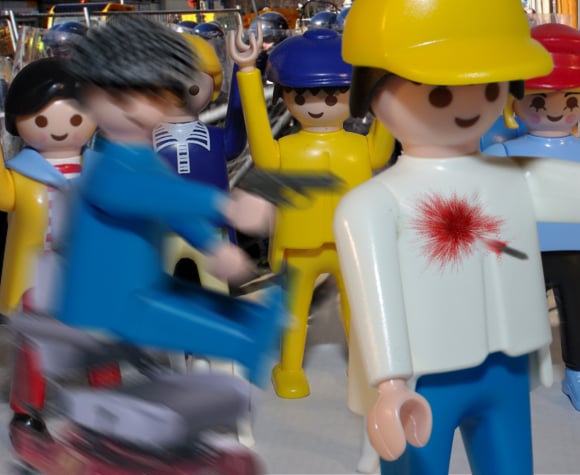 A New York City granny, on a "Grey Panthers" budget trip to England, has popped a righteous cap in a crusty ne'er-do-well, on the grounds that he "looked funny at my dog". Unfortunately, she's failed to consider the recoil of her .357 Magnum, and both she and her motorised mobility scooter are travelling backward at 45mph, as you can see.
Ambulance services treated several people at the scene, described as suffering "grandmother impact-related injuries", while the fire brigade used cutting equipment to remove Dirty Harriet's pooch from the tangled wreckage of her scooter.