G20 Summit: All the action caught on camera
Our man braves London's riot-ravaged streets
---
And finally - since you were doubtless all wondering just how The Register survived G20 - here's a CCTV image of the Vulture Central lobby on Wednesday afternoon (click pic for a big version):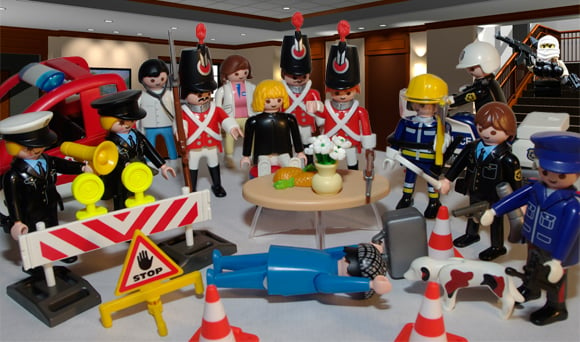 Our receptionist, backed by El Reg ceremonial guardsmen, police, fire services and paramedics, has just "taken down" a courier who unwisely attempted to deliver a new laptop without having either the required biometric ID card, a prior appointment nor indeed a letter from his MP confirming his identity.
Of course, in the confusion the highly-trained security operatives have failed to notice the real threat to world order, seen coming down the stairs at quite a pelt.
Those of you up to speed on current events here will recognise immediately that the figure in question is not in fact a member of the Taliban, but rather our very own Moderatrix - pushed to the limit by readers' shoutpourings and, having resigned from The Register, out to wreak terrible revenge on the commentards. Don't say you weren't warned. ®
Related stories
Our full Playmobil coverage of the events which changed history is available right here.