Undoubtedly unhappy about rival operator O2 stealing all the limelight with its Joggler "family organiser", Orange has taken the wraps off its own home-focused kitchen-friendly internet device.
Tabbee is a Wi-Fi enabled 7in touchscreen tablet that's designed to put "the whole web at your fingertips".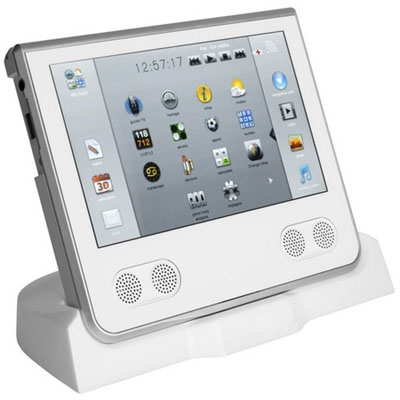 Orange's Tabbee: family planner
It does this by providing icon-based access to everything from local traffic news and weather updates, to photos, films, videos and music. Widgets can also be downloaded to Tabbee.
The gadget can be used like a family message board thanks to the on-screen keyboard. Data can be transferred on and off of it using SD memory card and USB Flash drives.
Although designed to sit in a charging dock most of the time, Orange said the gadget's battery will provide up to three hours of "intensive" untethered use.
Orange's Tabbee will be available in France during Q2, priced at €299 (£272/$402). A UK launch date or price hasn't been given. ®