Review The new AMD ATI Radeon HD 4890 is heavily based on the HD 4870 but it has some changes in its architecture that allow it to run substantially higher clock speeds.
How much higher? Glad you asked. The 4870 has reference clock speeds of 750MHz for the core and GDDR 5 memory that runs at 900MHz. GDDR 5 is a completely different animal to GDDR 3 so the 900MHz speed equates to an effective speed of 3600MHz. This business of true speed/effective speed could get wearisome so we're going to stick to effective speeds for this review.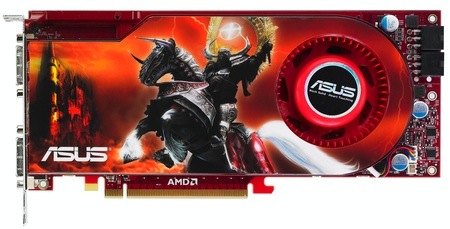 Asus' EAH4890: AMD's Radeon HD 4890 - aka 'RV790' - on board
A reference 4870 runs at 750MHz/3600MHz and a factory overclocked specimen runs a tad faster at 800MHz/4000MHz. You'll generally find that you can overclock a decent 4870 to 850MHz/4300MHz.
By contrast, the new 4890 comes out of the blocks at 850MHz/3900MHz and is also available in factory overclocked versions with a 900MHz core and memory clocked at 4000MHz. Two weeks after the launch of 4890, we can expect to see a super overclocked variant that will run much faster. We estimate that a 1GHz core speed is quite plausible, with memory running at 4400MHz.
That's a lot of numbers so let's recap: a basic 4870 has speeds of 750MHz/3600MHz, and the Asus board we used for testing overclocked to 870MHz/4360MHz. The new 4890 starts at 850MHz/3900MHz, and our Asus sample overclocks to 980MHz/4480MHz.
That's a useful speed bump and as the 4890 has the same 800 unified-shader stream processors and 256-bit memory controller as the 4870 does, we can expect the extra speed will give a proportional increase in performance.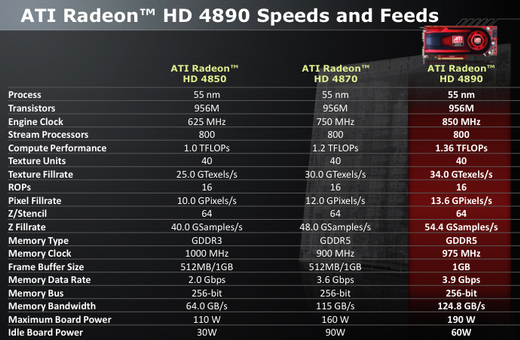 Similar topics