However, the 'RV790' chip design that's the basis for the 4890 is rather more than a simple speed bump of the 'RV770' used in the 4870. For starters, it's bigger and measures some 16.5 x 16.5mm rather than 16 x 16mm, which is an increase of about six percent in area. The fabrication process of both chips is 55nm, and the number of transistors is also the same: 956 million. So we're talking about a reorganisation of the chip rather than a redesign.
Running the new graphics chip at such high clock speeds requires plenty of electrical power so the RV770 has been designed to work with a graphics card that can supply five-phase voltage regulation. The result is that 4870 has an idle power draw of 90W and a maximum power draw of 160W. The figures for 4890 are 60W and 190W, so the new graphics card should draw less power at idle and more power under load.
You can buy an 4870 with either 512MB or 1GB of memory, but the 4890 is only available with 1GB. We 're not exactly comparing like-with-like here, as our Asus EAH4870 had 512MB of video Ram while the EAH4890 has 1GB. We were careful to avoid extreme anti-aliasing settings that would favour the the larger frame buffer, so we're confident that our test results accurately reflect the differences between 4870 and 4890.
Unfortunately, there is no way to make an allowance for the power draw of the extra 512MB of memory so all we can say is that our figures show the overclocked 4870 draws 5W more than the 4890 at idle and 10W less under load.
Lay a 4870 next to a 4890 and we defy you to tell the two cards apart: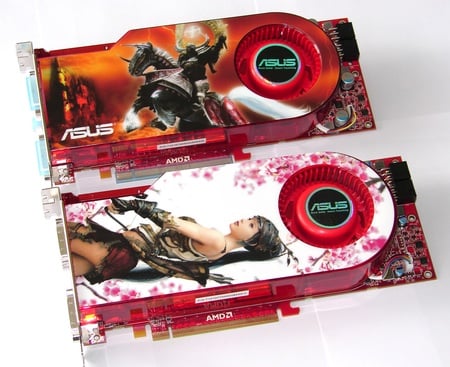 Asus' 4890 (top) and 4870
We tested the graphics cards on a Gigabyte MA790FXT-UD5P motherboard with a Phenom II X4 810 that we overclocked from 2.6GHz to 3.25GHz, 2GB of Kingston DDR 3, an 80GB Intel X25-M solid-state drive and Windows Vista Ultimate. We had planned to use Catalyst 9.3 drivers but they didn't recognise the 4890 so we used the drivers from the Asus 4890 with both cards - let's think of them as Catalyst 9.4 Beta.
Similar topics