Overclocking the 4890 to 980MHz/4480MHz delivered a chunk of extra performance that is between 12 and 22 per cent higher than the 4870 so clearly anyone in the market for a high-end Radeon graphics card should be interested in an upgrade.
GPU Temperature Results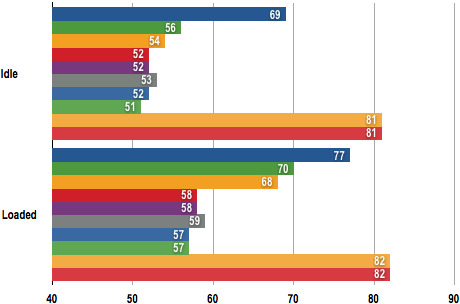 Temperature in °C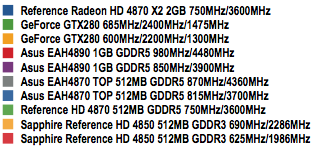 The problem is that AMD has positioned the HD 4890 as a new product at the top of its single-GPU tree and assigned it a UK selling price of £229. The Radeon HD 4870 gets a small price cut to £170 for the 1GB version, so you'll be paying a premium of £60 for the new 4890. That's some 35 per cent and we don't feel it represents good value which is, unfortunately, usually the case with high-end graphics cards.
It does, however, allow AMD to push into the high end of the market, which is currently dominated by Nvidia's GeForce GTX 285. Unfortunately, we don't have a GTX 285 to hand but we do have a GTX 280 and we know from previous testing that a GTX285 performs about nine per cent faster than he tGTX280. Running the GTX 280 on our test platform shows that Nvidia continues to hold the high ground which is what we'd expect from a family of graphics cards that cost between £310 and £370.
It also raises the intriguing question about the likely effect of the new GeForce GTX 275, which is priced above the HD 4890 at £240-280. This is a new model that has been coincidentally launched at the same time as the HD 4890 with hardware apparently available for review in a week's time. Watch this space, as they say...
Verdict
AMD's Radeon HD 4890 is substantially faster than HD 4870 and it has massive headroom for overclocking. The only thing is, we're not sure it offers good value for money. ®

AMD ATI Radeon HD 4890
AMD respins the HD 4870 and increases the clock speeds substantially.
Similar topics