This article is more than 1 year old
Asus Eee Linux-based Skype Videophone
Chat with your chums, change the source code
Review Appearing a somewhat solitary member of the Asus Eee product family, the unique AiGuru SV-1 Videophone stands alone in more ways than one. At around 25cm tall, with curves akin a to Brancusi sculpture, this tabletop unit bearing a widescreen 7in LCD features built-in 802.11b/g Wi-Fi and a rechargeable battery to deliver round-the-home portability.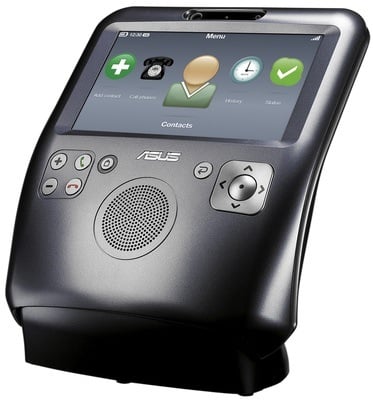 Asus' AiGuru SV-1: comes with full source code
While numerous messengers offer audio-visual communications on a computer, all this Asus device needs is an internet connection – Ethernet or wireless – and you're away, waving a hand to far flung relatives or more select parts of your anatomy to a new best friend in Rio. The catch? It only works with Skype. Indeed, Asus is eager to point out that the AiGuru SV-1 is the world's first 'Skype Certified' standalone videophone.
The concept brings to mind Deckard's conversation, on a grubby Vid-Phon in The Snake Pit Bar, to his replicant sweetheart Rachel in Blade Runner. It was something to do before retiring an errant Nexus-6, formerly part of an off-world kick murder squad, who'd taken up erotic dancing instead. And yet here we have the AiGuru, apparently ten years ahead of its time, and the replicants turn out to be Chavs.
Considerably smaller than the 'futuristic' Vid-Phon, the AiGuru SV-1 has an 800 x 480 screen. Above it is a 0.3Mp camera, with accompanying microphone and activity light. Below is an intuitive range of controls. On the left, volume up/down, call and disconnect, plus a home key that returns to the main menu. The right cluster navigates the screen the functions: up/down, left/right, back and select. In the middle of these controls is a shower head-style speaker grille, protecting a fairly warm sounding 2in speaker.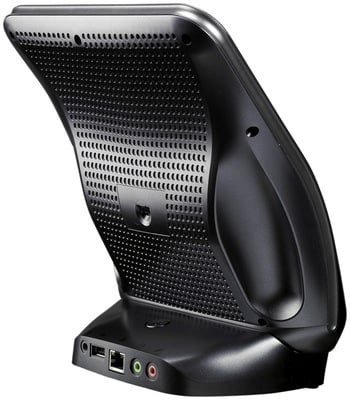 The USB port's not used, alas
The back of the main unit is contoured with vent holes in various places. It's all hinged on a base that houses the battery, the power button and additional interfacing at the rear for the external PSU, Ethernet, and minijack sockets for microphone and headphones. There's also a USB port, but Asus says it's solely for service updates.