This article is more than 1 year old
Asus Eee Linux-based Skype Videophone
Chat with your chums, change the source code
When signed in, the menu options expand to include: Search, Add Contact, Call phones, Contacts, History, Status and Account. If you're already a Skype user, Contacts reveals all the names in your Skype address book, five names at a time, in a long row. Profiles with images are also visible. Click the down key and names can be accessed more swiftly from the alphanumeric grouping tabs at the bottom of the screen.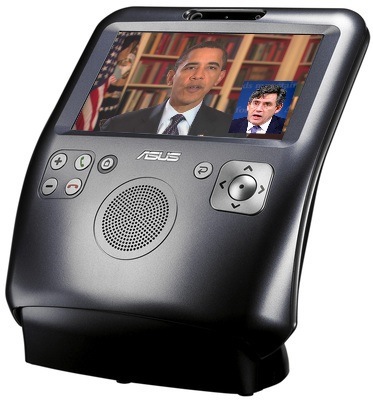 Win friends and influence people
Select a name and the screen transforms to show the profile image and any greeting message, with a sidebar on the right listing options to make a video or voice call together with View Profile, Remove, Block and Rename functions.
Using the videophone was actually a lot of fun. The screen fills with the video from the contact's camera with an optional thumbnail view of your own cam in the bottom right corner. Keep the volume at a moderate level at both ends and conversations can flow without echoes. Images received from decent webcams looked really good and while the frame rates were probably in the low teens, the lip sync was good and the sound excellent at either end.
From a viewer's perspective, compared to a Mac's built-in iSight camera, the AiGuru SV-1 leaves a lot to be desired. The image is fairly soft and the colour somewhat washed out, although the fixed focus is good all-round.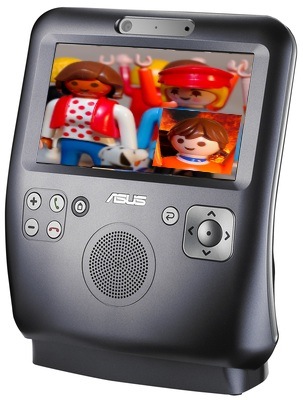 The battery only lasts about 20 minutes, which is rather disappointing but enough to continue a conversation in the kitchen whilst sharing boiled dog recipes with the lovely Rachel. It was only when the AiGuru SV-1 was moved around that design shortcomings became apparent. Unlike old portable TVs, there's no recessed carrying handle on the 1.6kg unit and, as you'd not want to smear the screen, the inclination is to pick it up from the sides. Yet on numerous occasions this caused an accidental click of a button or two, which terminated the call.