This article is more than 1 year old
Asus Eee Linux-based Skype Videophone
Chat with your chums, change the source code
Receiving calls was easy enough and there are several ringtone choices. However, if Skype is also running on a computer and is answered from that, the AiGuru SV-1 continues to ring regardless. If a Skype user types messages to you, they aren't received or acknowledged on the unit, and the call History may be an issue for some, as this can't be cleared in any obvious way – a device reset is required. And if you're inclined to make conference calls, you can appear as a guest.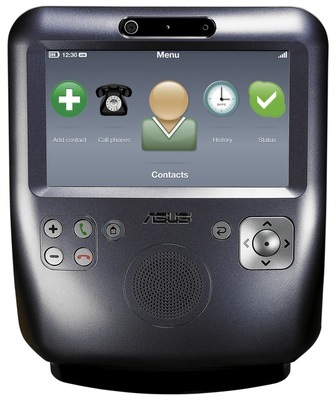 Fun to use
While the Asus AiGuru SV-1 is very much aimed at the consumer market, it really misses a few tricks considering how much potential is inside that box. The Snapshot feature will only add an image to your Skype profile, nothing else. With a screen the same size as those used on digital picture frames, why isn't it possible to grab images and use this device to show photos when it's dormant?
The USB port could take care of additional storage, and you'd think video playback would be possible too. With the Wi-Fi, this device could even become an internet radio or Asus could've added something simple like a calendar with reminders that it's time to di…al.
But the good news is that Linux foundation and the provision of source code. How long before enterprising hackers use the listings to build in these kinds of features?
Verdict
Was the AiGuru SV-1 rushed to market in fear that the world will run out of money soon? Possibly. Given all the things it could be, and may yet become, the £220 Asus Skype phone appears pricey in its current guise. Yet it's fun to use, and probably wouldn't look too out of place in The Snake Pit Bar with Taffy Lewis on the line. ®

Asus Eee Linux-based Skype Videophone
Fun to use but unrefined. A missed opportunity to be something really special.