BBC goes live... over Wi-Fi
Live TV airs for smartphones
No telly in your office? No problem, because the BBC has launched a live TV service for smartphones.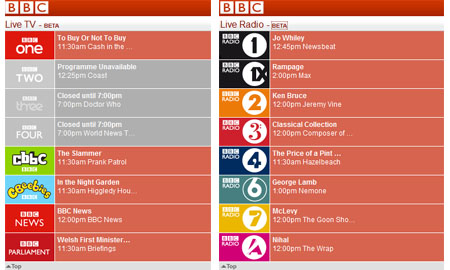 The BBC's Live TV service (left) also supports live radio (right)
Although still in beta, the Live TV service is designed to let you watch a selection of TV channels, including One, Two and BBC News, live over a Wi-Fi connection. It also supports several radio stations, including Radio 1, 2 and 4.
There's no need to install any applications prior to watching to any of the channels, just "click and go", the BBC said.
Currently the service only works over a Wi-Fi connection and broadcasts a 176 x 144 image, but the broadcaster hopes to extend Live TV out to 3G networks and to add more channels during the coming months.
Live TV is thought to work with a selection of smartphones, including the Android G1 and Nokia N Series devices. Register Hardware tried to access Live TV using an iPhone, the service wouldn't work.
It's worth noting that you're legally obliged to own a full colour TV licence before watching any of the channels on your mobile, though. The BBC warned that it's "a criminal offence to watch 'live' television without a TV licence".
The service is available using your smartphone and over a Wi-Fi connection online here ®