A compact camera capable of snapping sterescopic 3D images will be commercially launched later this year, it's been reported.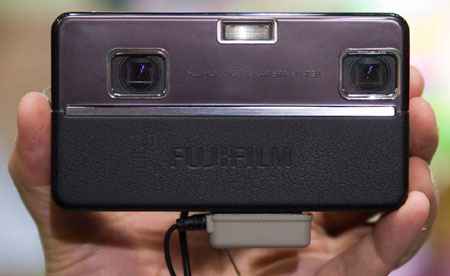 FujiFilm's 3D camera mimics your eyes by using two lenses
Images courtesy of Photography Blog
According to various online news sources, FujiFilm has inked plans to launch its first 3D camera in Japan at some point before Christmas.
The camera, which has already been seen at several big camera trade shows, has two lenses – mimicking the views of your left and right eye – and two image sensors.
Although the final model's specifications are still a closely guarded secret, a prototype seen earlier this year featured a 2.8in LCD panel that didn't require users to don silly specs to see their snaps in 3D.
FujiFilm said that the 3D camera depends heavily on its "Real Photo Processor 3D" chip, which synchronizes the data passed to it by both CCD sensors to produce a single snap.
\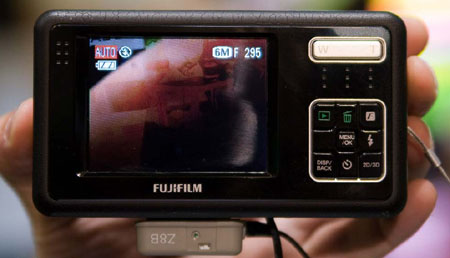 Silly specs not required...
The use of two lenses will also enable the camera to create ultra-wide panoramic shots by stitching together separate images from the left and right lenses.
The company's also developed an 8.4in FinePix Real 3D photo frame for viewing snapped 3D images. Essentially, it shares similar technologies to the camera's 2.8in display, but is slightly larger. ®
Sponsored: How to simplify data protection on Amazon Web Services