Review The pocket-sized Flip camcorder was one of the top tech toys of summer 2008, and it spawned a host of equally diminutive copycat products – not to mention our own compact camcorder round-up. The secret of the Flip's success lay in its sheer simplicity. Unlike most digital cameras and camcorders, which are festooned with buttons and menus settings, the Flip just had one big button for recording video clips, and two additional buttons for playing and deleting files.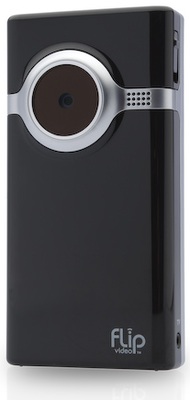 Pure's Flip Mino HD: honey, I shrank the camcorder
The compact design meant that you could easily carry it around in your pocket. You didn't even need a USB cable to connect it to your PC or Mac, as the Flip had a built-in USB interface that simply folded into the side of the unit when it wasn't needed.
That simplicity did have its drawbacks. The modest 640 x 480 resolution meant that video quality wasn't particularly impressive, and the single gigabyte of built-in memory only allowed you to store about an hour of video, so you obviously weren't going to be shooting your indie debut feature on it. However, its sub-£100 price tag and the sheer convenience of its pocket-sized design made it ideal for capturing quick video clips that were no doubt destined for 15 minutes of fame on Facebook.
The original Flip was quickly followed by the Flip Ultra, which had the same resolution but improved video quality a bit by doubling the bit-rate of its compressed video clips to from 2.8MB/s to 4.0Mb/s. The next step was the Flip Mino, which managed to reduce the camcorder's dimensions even further – while also pushing the price above the £100 mark for the first time.

The tiny screen isn't good for your eyes
And that brings us to the new Flip Mino HD which, as the name implies, brings 720p hi-def video capture to the Flip range for the first time. The developers at Pure Digital Technologies – who are currently busy counting the cash from selling the privately-owned company to networking giant Cisco – claim that this is the world's smallest HD camcorder. We're not inclined to argue with that, as the unit measures just 98.5mm high, 49.3mm wide and a mere 16mm thick. It weighs just 93g.