Review The de facto standard for netbook storage might now have become the hard disk, but that still leaves rather a lot of machines out there with solid-state drives, some fast, some slow, all low capacity, at least when compared to HDDs.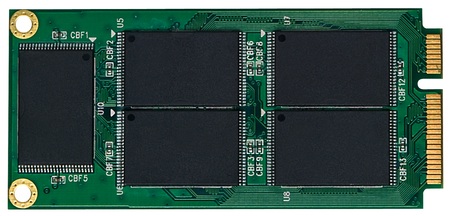 Crucial's N125: capacious, but no looker
Enter the purveyors of after-market add-ons, ready to supply extra netbook storage for owners who find that the 4GB or 8GB SSD in their Eee PC, Inspiron Mini or Aspire One isn't big enough.
An example is Crucial's N125 64GB solid-state drive, a compact card designed for netbooks with storage connected by Mini PCIe slot. One problem with SSD-based netbooks is a total lack of standardisation on how SSDs should be connected. The Acer Aspire One uses a parallel ATA bus and a ZIF (Zero Insertion Force) socket, for example. Others have the main SSD simply soldered onto the motherboard.
That limits the applicability of Crucial's upgrade, but if you have a machine that does take Mini PCI storage, such as the original Eee PC, the Eee 900 - which we used to test the 64GB SSD - and the Dell Inspiron Mini 9, you're half way there. The other key question is whether you can access the slot to fit the SSD.
With the Eee 900, at least, it's easy. The netbook has 12GB of solid-state storage: a relatively fast 4GB SSD soldered onto the motherboard and a slower, 8GB module. That latter is exposed by removing the hatch on the bottom of the Eee, and replaced by removing a couple of screws.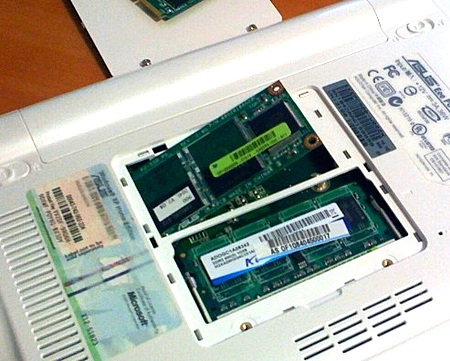 Exposing the Eee 900's SSD is easy
The Eee's 8GB is a full-length, 7cm Mini PCIe card. Crucial's N125 is a full-length card too, but the company also offers the N100, a half-length card suitable for other machines. Beyond their size, both upgrades are identical, according to Crucial. And both are available in 32GB and 64GB forms.
Sponsored: Ransomware has gone nuclear