'Leccy Tech So it's goodbye to Rick Wagoner, General Motor's youngest ever CEO and a man whose legacy will have people arguing long into the evenings.
Following what must have been an interesting chat with President Obama – or more likely one of the heavy hitters from the President's Auto Task Force – it was apparently agreed that whatever GM's future, Wagoner didn't feature in it. So he makes way for GM president and COO Fritz Henderson to assume the role of CEO.
Leaving aside the simple fact that GM is currently on its knees and dependent on either massive handouts from the US taxpayer and/or a short, surgical bankruptcy for its survival, Wagoner will be remembered among the electric vehicle community as the man who killed the EV1 and gave birth to the Volt. And that's quite a dichotomy.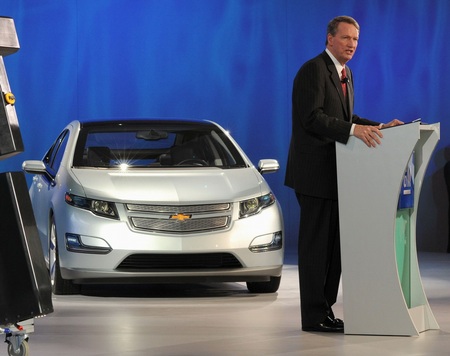 Wagoner and Volt: too late?
Despite all the conspiracy theories about the death of the EV1 – not least those given rather too free a reign in Chris Paine's film Who Killed The Electric Car - it is unfair to see Wagoner as some sort of evil genius rubbing his hands with glee at the demise of the project.
The EV1 was a hugely expensive project that was only launched to comply with the State of California's zero emissions mandate. Once that was overturned the project was probably doomed. With less than 1200 cars on the road by the end of 1999, the EV1 project never made commercial sense and it's questionable if GM ever really saw it as much more than a wide-scale engineering evaluation project and the cost of doing business in the state.
GM's problem with the EV1 wasn't that it cancelled it, but rather how it cancelled it. As an exercise in hubris and stupidity it takes some beating, even in the annals of US corporate history. The refusal to discuss buy-outs with lease owners; the haste with which it crushed the surviving cars; the refusal to simply explain the reasoning behind its decisions and actions. The whole situation was so poorly handled it's hardly surprising that people saw the dark shadow of a vast conspiracy between Big Auto and Big Oil.
Last year, Wagoner twice went on the record to state that killing the EV1 was the biggest mistake he ever made – presumably right up there with using the GM corporate jet to visit Washington to ask for Federal aid. Whether or not he actually meant it, or had an eye on kissing up to the environmental lobby, is, of course, another matter.