GM, Segway to unveil iPhone-driven wheelchair e-car
Sorry, 'the future of personal urban mobility'
'Leccy Tech General Motors may be knock-knock-knocking on heaven's door, but it clearly still has the time and money to fanny about with left-field ideas like Project P.U.M.A. - or the Personal Urban Mobility and Accessibility vehicle.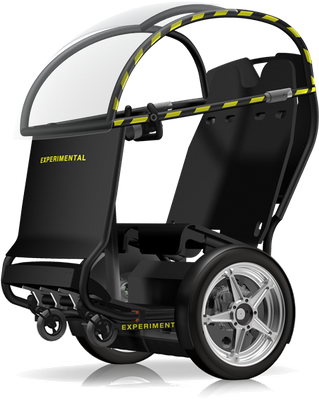 GM and Segway's Puma: wheelchair or car?
A tie-up with personal-mobility guru Segway, the Puma is a two-wheel self-balancing 35mph urban runabout with a maximum range of 35 miles on a fully charged set of its lithium-ion batteries. 35mph, in that? Strewth.
Each Puma is apparently driven by two small electric motors – in-wheel motors, if the pictures are anything to go by – and will be linked into to a live digital network giving details of nearby parking spaces, charge points or coffee shops, and allowing for vehicle-to-vehicle communications. Presumably, then a tweaked and enhanced urban-centric version of GM's OnStar system.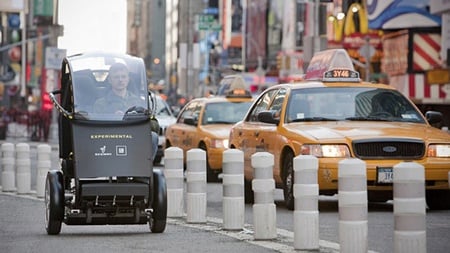 Beat the (gridlocked) traffic
All controls are managed by a fly-by-wire system while 'dashboard' information will be displayed on connected devices such as the – yes, you guessed it – iPhone.
"Project Puma represents a unique solution to moving about and interacting in cities, where more than half of the world's people live," said Larry Burns, GM VP of R&D and Strategic Planning. "Imagine small, nimble electric vehicles that know where other moving objects are and avoid running into them. Now, connect those vehicles in an Internet-like web and you can greatly enhance the ability of people to move through cities, find places to park and connect to their social and business networks."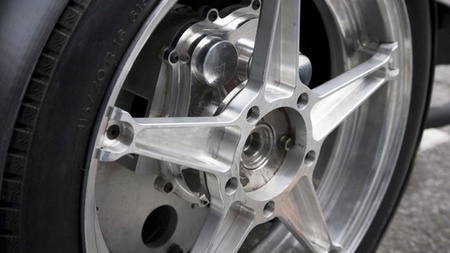 Motors in the wheels?
Puma will be officially unveiled at the New York Motor Show later this week. As it's only a prototype, GM and Segway are currently keeping mum about the 'when' and 'how much', but with the Segway Personal Transporter costing around $5500 (£3752/€4121) we'd take a stab in the dark at it costing around double that if it ever gets into mass production.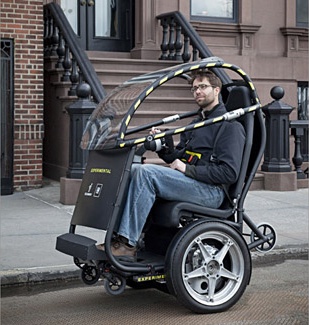 Approved by Davros?
We'd like to know what President Obama's view of the Puma is: the future of urban transport - or a ridiculous waste of money that GM simply doesn't have. ®