So here we are in New York for the first leg of Acer's seasonal refresh. The Taiwanese PC company is making a really big deal of the line-up, 20 products grouped into three areas - notebooks / netbooks / and all-in-one PCs and slotted into three brands: Acer, Gateway (Packard Bell in Europe) and eMachines.
It wheeled in resellers, retailers, analysts and even a journalist or ten, from across the US, Europe, Latin America and Asia for the first leg of the launch, in America's biggest IMAX dome cinema, housed in the Liberty Science Center, in picturesque New Jersey.The company's top execs are doing the presentations all over again this week in Amsterdam and in Beijing.
By far the most significant products are the three new thin and light Acer Aspire Timelines, punched out in 13.3in, 14.1in and 15.6in versions. These are the units, along with the new netbooks, that will determine if Acer has an OK year in a recession or a great year.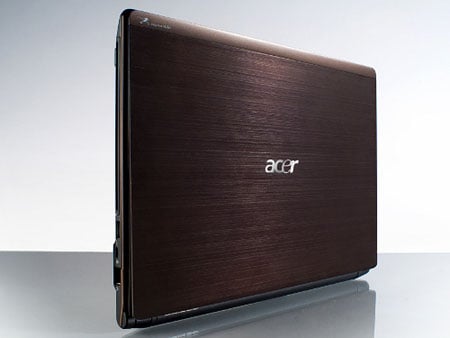 13.3in, 14in and 15.6in options available.
For Acer is still growing, in shipments and revenues, against the backdrop of PC market decline, The company attributes this to strong positions in notebooks, netbooks, a multi-brand approach reaching more market segments, and lower operational costs than rivals - which means it can still profits on lower prices. Acer claimed 40 per cent of the netbook market in 2008 (which totalled more than 10 million units) And it is gunning to maintain this share in 2009, when the market is expected to see 20m-25m unit shipments.
In his New York presentation yesterday, Gianfranco Lanci, CEO of Acer Inc, argued that netbooks presented mostly new sales. "There is very little cannibalisation [with other products]," he said.
But it is a very different story with notebooks. This market is still growing in shipments, but average selling prices continue to tumble. And notebook growth is accompanied by sharply declining desktop sales. Acer, as the world's second biggest notebook supplier, simply has to keep on top of its game. One only has to look at Dell to see what happens when a big PC supplier stumbles. It ain't so easy to regain momentum.
Timelines
So without further ado to the new Acer Aspire Timelines. The first thing to tell you is: battery life. The notebooks squeeze eight hours battery life, and ten for the SSD versions. The second thing of note is price - the entry levels will cost $599-799 (and presumably around the same in UK pounds, when they hit the retailers in May). The company claims that equivalent, or worse specced, notebooks from Lenovo, Sony and HP cost $2000 or more.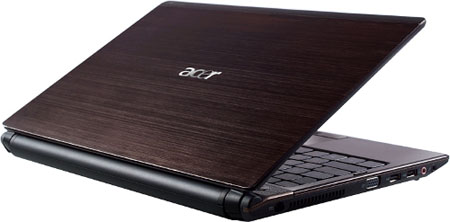 Acer's Timeline machines are light, thin and should hold out for eight hours
The Acer pitch is that the Timelines are ultra-thin and light, with long battery life at no performance compromise, at mainstream prices. The reviews will tell us soon enough if the products live up to the no-sacrifice claims, but the speeds feeds and price points make for an attractive story.
The 13.3in qualifies as ultra-light, weighing 1.6kg (3.51b) - while its 15.6in big brother makes bantamweight, at 2.4kg (5.3lb). At the thinnest point the Timelines are 24mm thick, increasing to 50mm at the thickest. Not quite Airbook-sleek, then. But they are nicely styled, in gun metal grey brushed aluminium.
Some more Timeline spec? The notebooks have up to 500GB HDD and up to 64GB SSD, DDR 3 system memory and Dolby sound. The SSD version beat the benchmarking crap out of their hard drive versions, but they cost a lot more and capacity is a lot less. But the market will evolve rapidly over the next couple of years, according to Jim Wong, who runs Acer's IT Business Group, with SSDs coming down to 10x more per GB, down from 25x, and capacities ramping up.
Assault on batteries
So how did the company get more battery life for these puppies. No, the batteries aren't any bigger. The answer is lower voltage components arranged more cleverly on the motherboard. This enabled Acer to claw out 33 per cent or so power savings, compared with a "typical notebook", and eke out 40 per cent more battery life, according to Acer's Wong. The Timelines incorporate Intel Core 2 Duo ULV (ultra low voltage chips), and also Intel DPST (display power saving technology) support. According to Intel this can reduce display backlight power by up to 25 per cent with minimal visual impact.
In a nice touch, the Timeline AC adapters are also full of power-saving goodness. Sensors in the adapter detect when the laptop is fully charged – and so it goes into idle mode, saving electricity and reducing battery wear and tear. Acer has done the sums – presumably with a notebook permanently attached to the wall - and reckons the smart adapter saves 41.6Kw/h electricity each year – equivalent to a 15W bulb lit for 116 days.
The Timelines run 5°C cooler than typical modern notebooks. Acer says it has done this in response to feedback from customers, who say that using notebooks literally as laptops gets a bit uncomfortable after a while. The Timelines have a new –to notebooks, but old to jet airliners – cooling method, developed with Intel. This is called a Laminar Wall Jet. In application, louvers have been added to inlet vents of the Timelines, to transfer cooling air flow to along the bottom of the notebook chassis. So you can surf the net naked longer.
Which is nice.
My colleagues have kindly written up some more Acer launches, which you can catch below:
Acer touts touchscreen Windows 7 PC
Acer extends Aspire One netbook line with 11.6in model
Acer flaunts first Ion-based nettop
Similar topics