This article is more than 1 year old
Repeat space tourist Simonyi back on terra firma
He should think about a timeshare
Space tourist Charles Simonyi this morning returned to Earth from the International Space Station at the end of his second trip to the orbiting outpost.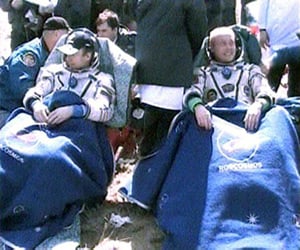 He and Expedition 18 members Commander Mike Fincke and Flight Engineer Yury Lonchakov (right and left in pic) touched down in Kazakhstan aboard their Soyuz TMA-13 capsule at 07:16 GMT. All three are reported to be in "good condition".
Simonyi travelled to the ISS on 26 March with Expedition 19. His first trip aloft - at a cost of around $25m - was back in April 2007.
Fincke and Lonchakov - who lifted off on 12 October last year - return after 178 days in space, 176 of them on the ISS.
NASA has further details on the landing here. ®