This article is more than 1 year old
NASA: Clean-air regs, not CO2, are melting the ice cap
Acid-rain countermeasures could drown London
Opinion New research from NASA suggests that the Arctic warming trend seen in recent decades has indeed resulted from human activities: but not, as is widely assumed at present, those leading to carbon dioxide emissions. Rather, Arctic warming has been caused in large part by laws introduced to improve air quality and fight acid rain.
Dr Drew Shindell of NASA's Goddard Institute of Space Studies has led a new study which indicates that much of the general upward trend in temperatures since the 1970s - particularly in the Arctic - may have resulted from changes in levels of solid "aerosol" particles in the atmosphere, rather than elevated CO2. Arctic temperatures are of particular concern to those worried about the effects of global warming, as a melting of the ice cap could lead to disastrous rises in sea level - of a sort which might burst the Thames Barrier and flood London, for instance.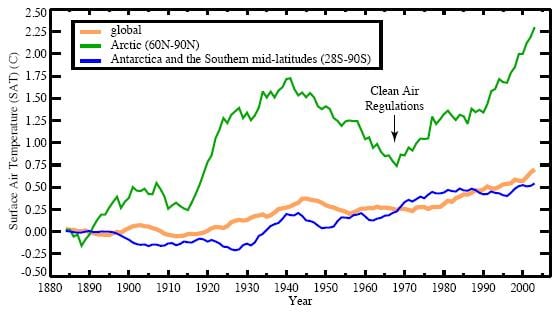 Acid rain fixed, woo! Hey, what's that gurgling sound?
Shindell's research indicates that, ironically, much of the rise in polar temperature seen over the last few decades may have resulted from US and European restrictions on sulphur emissions. According to NASA:
Sulfates, which come primarily from the burning of coal and oil, scatter incoming solar radiation and have a net cooling effect on climate. Over the past three decades, the United States and European countries have passed a series of laws that have reduced sulfate emissions by 50 percent. While improving air quality and aiding public health, the result has been less atmospheric cooling from sulfates.
Meanwhile, levels of black-carbon aerosols (soot, in other words) have been rising, largely driven by greater industrialisation in Asia. Soot, rather than reflecting heat as sulphates do, traps solar energy in the atmosphere and warms things up.
The Arctic is especially subject to aerosol effects, says Shindell, because the planet's main industrialised areas are all in the northern hemisphere and because there's not much precipitation to wash the air clean.
"Right now, in the mid-latitudes of the Northern Hemisphere and in the Arctic, the impact of aerosols is just as strong as that of the greenhouse gases," says Shindell.