Facebook is trying to keelhaul links to Pirate Bay torrents on its website, just one week after the popular file-sharing repository made it easier for users to share them on their Facebook profiles.
The attempt, however, is laughably haphazard. A Facebook user almost needs to work to get their link blocked.
In late March, The Pirate Bay added a new "Share on Facebook" button making for quick and easy linking to Pirate Bay torrent files. Predictably, Facebook wasn't too keen on the feature due to Pirate Bay's worldwide infamy for publishing links to copyright-infringing music and movie files.
On Wednesday, Facebook took action — not only killing the Pirate Bay feature from its side, but in the same stroke, attempting to block all shared links to Pirate Bay torrents on the site. The P2P blog TorrentFreak was the first to pick up on it.
In theory, links to Pirate Bay torrents will get blocked from the social networking site. But only if you do it a certain way.

Blocked...Sort of.
When asked for comment about the change, a Facebook spokeswoman sent us the statement:
Facebook respects copyright and our Terms of Service prohibits placement of 'Share on Facebook' links on sites that contain 'any content that is infringing.' Given the controversy surrounding The Pirate Bay and the pending lawsuit against them, we've reached out to The Pirate Bay and asked them to remove the 'Share on Facebook' links from their site. The Pirate Bay has not responded and so we have blocked their torrents from being shared on Facebook.
Despite the block, Pirate Bay fans will presently have no trouble continuing to link to torrents on Facebook. That's because the social networker only blocks links coming from "http://thepiratebay.org/..." . Any link using a Pirate Bay subdomain can still be added to a Facebook profile, posted on a wall, shared, whatever.
The key here is that Pirate Bay provides a "download this torrent" link to every single torrent using the subdomain "http://torrents.thepiratebay.org/..."
The only way to get a torrent link coming directly from thepiratebay.org is through the search results page.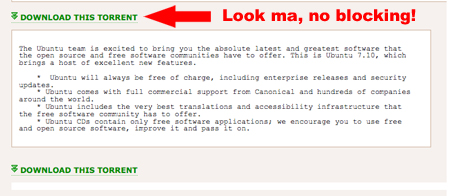 Curses! Foiled again!
This effectively makes Facebook's block useless. Users won't even have to use simple workarounds like TinyURL to fool the filter. Pirate Bay already provides a way around it. Not to mention other popular torrent sites like Mininova and isoHunt remain unaffected by the block.
There's definitely a censorship issue here with Facebook's blockage as not all torrents link to copyrighted material. But with censorship attempts like this, who needs free rein? ®
Similar topics