Apple eyes new-age iPhone answering machine
You've got video mail
An Apple patent application published Thursday by the US Patent and Trademark Office describes adding video answering-machine capability to the company's iChat messaging application, including extending remote video messaging to the iPhone.
The idea isn't new in the minds of the Cupertinians. As long-time Apple-watchers will remember, MacRumors reported in December 2006 - well before the current version of Mac OS X, aka Leopard, was introduced - that an early build of that OS included a "Leopard iChat Answering Machine." Details were sketchy, but the LiAM appeared to be a straightforward outgoing-message and incoming-response recorder.
Well, as the French say, plus ça change, plus c'est la même chose.
Today's patent application was filed on October 5, 2007 - exactly three weeks before the answering machine-free Leopard shipped. Entitled "Answering Video Chat Requests," the filing describes an extension to iChat that enables a Mac OS X user to record an outgoing message to be played back to an iChat caller when the user is not available to answer the video call in person. Or, for that matter, when they simply don't want to be disturbed.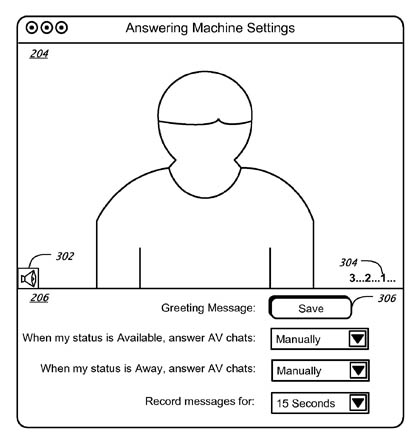 Record a message and tell your Mac when to send it
Presumably, as is the case in the current iteration of iChat, version 4.0.7, the recording could be made with a Mac's built-in iSight camera, a tethered video camera, or a third-party webcan. The user could also choose to record an audio-only messages. The filing also describes the ability to simply drag-and-drop a prerecorded out-going message into the iChat window.
The user could set a time interval for when the outgoing "I'm not available to take your call" video message should kick after receiving a video-call request. After viewing the outgoing message, the caller could choose to leave his or her own video message in response.
And worry not, the user would be able to set a time limit for the caller's message to avoid the possibility of a rambling, multi-gigabyte message from a drunken buddy.
The filing also describes a smaller "you've got mail" dialog that would inform the user that a video message has been received - including metadata such as te sender's name and the video's size and date - and prompt them to play it back. A message-saving option is also included.

A smaller dialog tells you a message has arrived - maybe to your iPhone
In addition to this answering-machine metaphor, the filing also describes the ability for a caller to simply send a message without asking for a user to answer it when it's sent. The example given in the filing is that of a caller sending a video holiday greeting straight to a user's video mailbox.
Other details include the the interface being either mouse-driven or touchscreen-based, the ability to tailor different messages to different callers and accept messages from only a select group of callers, the ability of a developer to embed this the video-messaging scheme into multiple applications (email, media player, browser, and so on), and the choice of storing messages not only locally, but on a "video chat server."
This last option opens up the possibility that Apple might use its MobileMe online service as said video chat server, and provide the capability of accessing video messages using an iPhone. The filing, in fact explicitly states that "a call recipient could access video answering machine messages stored in a video mailbox within the video chat server through ... a mobile phone application."
Additionally, if a future iPhone does contain video capabilities as many believe it might, there's no reason other than bandwidth and processing power why a user couldn't initiate video chats and messaging, as well.
iChat has had video capabilities since version 2.0, dubbed iChat AV, was introduced in June 2003, but it's never really caught on. Perhaps adding a messaging function that can be extended to the iPhone might tempt more users. ®