This article is more than 1 year old
Ricoh CX1
Say hello to the 'careful-cam'
The CX1 combines Ricoh's "Smooth Imaging Engine IV" image processing chip with a 1/2.3-inch CMOS sensor with 9.29m pixels (effective); a 7.1x optical zoom in the shape of a 4.95-35.4mm lens equivalent to 28-200mm for a 35mm format camera; image resolution ranging from 3456 x 2592 to 2592 x 2592, with several selectable aspect ratios; shutter speed range of 8-1/2000sec, ISO range 80-1600; and continuous shooting speed modes which go from 4f/s at high resolution to a blistering 120f/s at 640 x 480 resolution.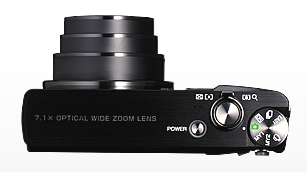 Not a multitude of controls
Movie mode - the format's Motion JPEG in an AVI container - offers 640 x 480 (VGA) and 320 x 240 (QVGA) resolutions with 15f/s and 30f/s shooting speed options. The CX1 uses a sensor shift image stabilisation system.
Not surprisingly, Ricoh is making the most noise about the CX1's fancy features. Dynamic Range Double Shot shoots two images at different exposures and uses this data to produce a single image that combines the properly exposed portions from each image – or so it says on the tin.
Multi-pattern Auto White Balance is designed to improve image quality when shooting in a mix of natural and artificial light by adjusting the balance in different parts of the scene, while Multi-Target Auto Focus shoots seven images at seven fixed focal lengths - 28mm, 35mm, 50mm, 85mm, 105mm, 135mm and 200mm - and lets you decide which shot is the sharpest.
Switch on is fast: the CX1 is ready to go in about a second. The mode dial lets you select Easy mode, which only lets you adjust the image quality, plus Auto, Dynamic-range Double Shot, Continuous, Scene - there are ten scene modes, including, Portrait, Face and Landscape - Movie, plus two user-defined preset modes.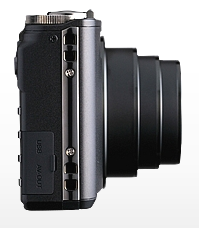 Not the thinnest of compacts
There are several layers of user control. Press the Menu button and you can adjust parameters such as the focus mode - there are half a dozen options, including manual focus - exposure metering and ISO, although this method involves scrolling through two long menus. You can assign various functions, such as AE Lock, to the fn button for fast access, while as stated earlier, the joystick control can also be used to adjust various settings.