The secretive US Special Operations Command (SOCOM) has revealed the data-handling features it would like to see on its planned new fleet of mini submarines for use by elite US Navy frogman-commandos.
At the moment, the famous yet hush-hush Navy SEALs use the Swimmer Delivery Vehicle (SDV) Mark 8 Mod 1, a large electrically-propelled torpedo-like craft which typically operates from a "dry deck shelter" fitted to a full-size US nuclear submarine. The cylindrical deck shelter is hooked up to the sub's aft escape hatch, functioning as an underwater docking bay for the mini-sub. Four SEAL passengers and two crew can ride in the SDV, wearing breathing apparatus. Once the sub mothership has got as close to the objective as it can, the dock floods and the SDV is launched. After a mission, it returns to the docking bay assisted by divers from the mother sub.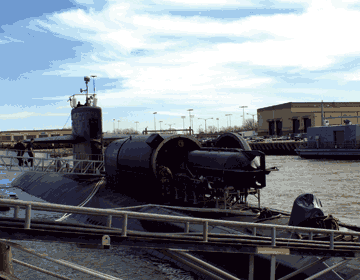 What the black-neoprene-clad killer frogman rides to work
The Mark 8 Mod 1 "Eight Boat" is said nowadays to be the only minisub remaining in service with the SEALs. There was formerly a Mark 9, which carried a brace of torpedoes instead of passengers (these would have been intended more for attacking ships in harbours or anchorages than for James Bond style minisub-v-minisub dogfights). However, the Mark 9 was apparently retired in the 1990s. The sole, ill-fated prototype Advanced SEAL Delivery System (ASDS) minisub - which would have allowed frogmen to travel in the dry, without requiring them to wear diving sets - was recently put out of action in a fire.
But the 1970s-era Mark 8s, even with their 1990s Mod 1 life-extension package, are getting a bit past it according to SOCOM. In particular, their data bus is so old that upgrading it with new information systems is all but impossible:
The MK 8 MOD 1 SEAL Delivery Vehicle (SDV) is approaching the end of its service life. The system was originally designed around a standard 1553 data bus, making upgrades and replacements no longer cost effective due to obsolescence. In some cases, increased capability may be available but the lack of an open architecture prevents cost effective upgrade of the systems.