Police are on the lookout for saboteurs believed to have gone on a fiber-optic cable slashing spree on Thursday, leaving hundreds of thousands of Silicon Valley residents without internet access, landline, and mobile phone service for much of the day.
California Bay Area officials say vandals cut four cables belonging to local carrier AT&T sometime before 1:30 AM in San Jose, south of San Francisco. Another four cables were snipped approximately two hours later at two nearby locations northward in San Carlos. An additional two lines were then severed in south San Jose.
The felled fiber froze communications at hospitals, police stations, emergency services, banks, businesses, and fire departments in three counties as AT&T crews scrambled to patch the cables and reroute traffic.
Thousands of silicon Valley residents were also left with no internet access, forcing many to abandon blogging and venture out of doors where reportedly there churns a fiery sun which fills men with fear and UV radiation.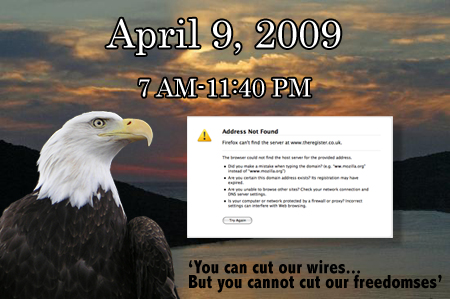 But far more serious, emergency 911 services were unavailable for many on landline and cell phones. Authorities worry some may have attempted to call in a fire or police emergency but were unable to contact help.
AT&T's regional network provides nearly all wireless, landline, and consumer broadband services to the area — resulting in outages for customers of Verizon, T-Mobile, Sprint Wireless, and others.
Police say they don't know the motivation of the crime, but in each case, the vandals had to pry open manhole covers which typically weigh more than 100 pounds and require a special tool to pry open, shimmy down a shaft, and slice plastic-encased cables about an inch in diameter.
AT&T documented its doings on the telecom's Twitter feed throughout the day, reporting it was aware of the service outages in California around 7 AM PDT. (True, it's not particularly useful for those without internet access, but it's not like it was even physically possible to call them either).
"We have partially restored fiber connections serving Santa Clara and San Jose, including restoration of most 911 in the area," AT&T wrote at about 9:00 pm Thursday.
At approximately 7:00AM PDT, AT&T wrote repairs to vandalized San Jose cables were completed overnight and services are operating normally.
The company also announced on Twitter it is offering a $100,000 reward for information leading to the arrest or conviction of those responsible. ®
Update
Reg readers have tipped us to AT&T upping the bounty to $250,000.
Similar topics