Just as Microsoft had recovered from the Xbox 360's notorious "Red Ring of Death" fiasco another big hardware error has begun slaughtering its boxes.
The Xbox 360 "E74 error" has become enough of a problem that Microsoft is now covering it under the console's extended three-year warranty reserved for RRoD failures. Redmond is also retroactively covering the issue, reimbursing customers who've already paid for E74-related repairs.
Gaming sites that have been tracking the error, most notably Joystiq, indicate the E74 error has become increasingly frequent since mid-2008. It's believed most E74-related issues are caused by solder on the Xbox 360's ANA/HANA scaling chip coming loose rather than the RRoD's CPU/GPU problem.
Before the error, the console usually displays graphical glitches such as lines across the screen or static. The box's final death rattle comes as the on-screen E74 error message informing the user in several languages to contact Xbox customer support. There's also typically a single red light lit up at the lower right quadrant on the "ring of light" on the front of the console.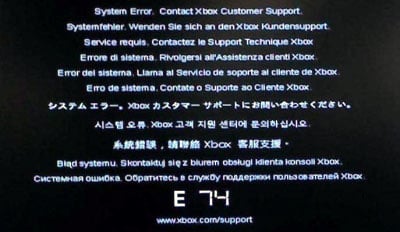 Standard warranty for the Xbox 360 is one year, but Microsoft had extended the warranty for RRoD failures to three years after the error proved a source of an "unacceptable number of repairs." Until today, E74 was only covered by the Xbox 360's normal warranty - so E74 victims footed the repair bill after the year was up.
Microsoft is now including E74 failures in its extended three-year warranty. Customers who already paid for E74-related repairs will also automatically receive a refund within four to 12 weeks, the company said today.
From Microsoft's E74 support page:
While the majority of Xbox 360 owners continue to have a great experience with their console, we are aware that a very small percentage of our customers have reported receiving an error that displays "E74" on their screen. After investigating the issue, we have determined that the E74 error message can indicate the general hardware failure that is associated with three flashing red lights error on the console. As a result, we have decided to cover repairs related to the E74 error message under our three-year warranty program for certain general hardware failures that was announced in July 2007. We have already made improvements to the console that will reduce the likelihood of an occurrence of this issue.
Hopefully, Microsoft learns its lesson here and will spend a little more on parts in the future to save millions of dollars in repairs.
Oddly, these hardware failures haven't turned into a PR nightmare for the company. Sure, the Xbox 360s shoddy insides have received a fair share of flack from the press, but the console still sells extremely well - certainly better than Sony's PS3 which, by most accounts, runs as solid as a rock (albeit an enormous and expensive one). ®
Similar topics