Online retailer Play.com has begun accepting UK pre-orders for Acer's recently launched AspireRevo Ion-based small, cheap desktop PC.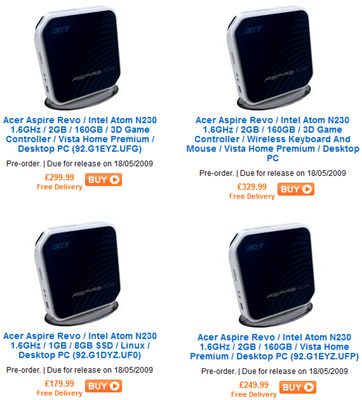 Play UK names the AspireRevo day, and prices
According to the retailer, four models of the machine will be released on 18 May for between £180 ($267/€201) and £330 ($490/€369).
All are based on the 1.6GHz Intel Atom N230 processor – as previously reported. But the most expensive machine comes with a 2GB memory, 160GB hard drive, 3D game controller and a wireless keyboard and mouse. It also ships with Vista Home Premium.
If your cash won't stretch that far then the cheapest of the four will get you a 1GB memory and an 8GB solid-state drive. You'll also get Linux instead of Vista.
The two mid-range AspireRevo's – priced at £300 and £250 ($371/€279) – will both come with a 2GB memory, 160GB HDD and Vista Home Premium. However, the pricier of the two mid-range models also comes with a 3D game controller.
All four models are available to pre-order online now. ®