SLED 11: a distro for businesses, not idealists
Fruit of Novell's Microsoft marriage delivers
---
Once the installation is finished you'll be greeted by a very Windows-like arrangement of Gnome, with the main panel, and even start button, down at the bottom of the window. As with openSUSE 11, the focus is on making the Gnome environment match the Windows experience. The results will be familiar enough for Windows users to pick up on, but shouldn't leave Linux fans feeling lost.
The one place we found SLED's setup to be a bit confusing was the system admin tools. There are no less than three panels you'll need to dig through to make any customizations to your system - the Control Center, Application Browser and the YaST2 setup panel. Those unfamiliar with SLED's setup will have a hard time figuring out which options are in which panel.
The rest of our experience with SLED matched that of other Linux distros but with slight Novell tweaks - apps like OpenOffice 3.0 and the Evolution Mail client have been customized to work better with Microsoft tools like the Open Office XML (OOXML) format for OpenOffice, and Exchange Servers in Evolution.
Again, you could do the tweaking and adding yourself, but the idea is that Novell saves you the trouble. For the home user that isn't much trouble to save; for a business administrator with 1,500 workstations to keep track of, well, you can see the selling point.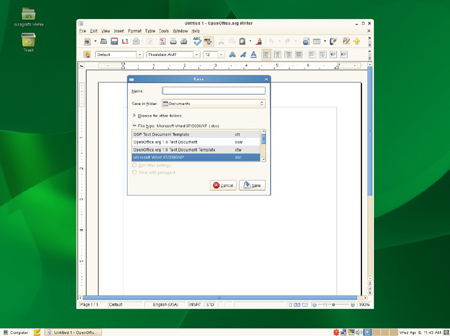 Document-level interoperability in SLED 11
And for the most part the "interoperability" that Novell likes to boast about, did indeed work. We were able to connect to an Exchange Server and retrieve mail without any issues. Opening, saving and working with OOXML files also presented no real problems, though in one case when we moved the documents back to Microsoft Office 2007 there were some mangled characters and other formatting flaws.
Performance-wise SLED is on par with other distros using the 2.6.27 Linux kernel and Gnome 2.24. You'll miss out on some of the newer features in Gnome 2.26, but you can always upgrade yourself. On the KDE side it's disappointing to see the rather lackluster 4.1 version is the default, especially given that 4.2 is a huge stability improvement.
The bottom line? We definitely do not recommend SLED for the casual home user or the free-software purists.
For the enterprise, though, SLED 11 is a worthy desktop distro, which has the extras that might finally give those businesses still sitting on the fence what it takes to pick Linux rather than Windows for their PCs. ®