Japanese telco KDDI will be showing an Android-based set-top box later this year, as the perfect partner for the cellphone looking to extend its reach.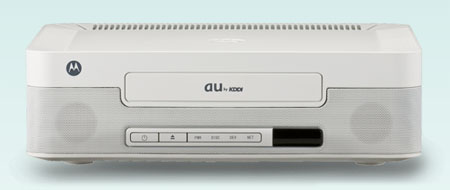 The Android-based au Box
The box, named by EE Times as the "au Box", will be able to rip CDs and play music through integrated speakers, but will also synchronise that content with a mobile phone - giving the handset, and network operator, access to the TV screen.
The box is being developed by Motorola, and is only one of the plethora of devices proposed to run Google's open-source OS, including everything from photo-frames to karaoke boxes.
The use of Android is technically unsurprising. Your reporter, in a previous life, went from developing set-top boxes to mobile phones and was pleasantly surprised to find them architecturally identical, with many of the same challenges regarding usability and reliability. In the UK, Sky still uses WAP to deliver content to their set-top boxes, while Linux can be found on a wide range of devices, including PVRs and cable boxes, where it works very happily.
Android, as just another Linux distribution, will be attractive to all sorts of companies. That doesn't mean those devices will be accessing the Android Marketplace, but it will serve to increase the number of experienced Android developers.
Windows Mobile already exists outside the mobile phone sphere as part of the Windows family, and the iPhone OS is recognisable from its desktop equivalent. Symbian has always resisted putting itself into any other form-factor, despite the fact that it would fit nicely, but it's really hard to imagine a set-top box or similar running BlackBerry OS. ®
Similar topics