Nokia's BetaLabs has conjured up a virtual meeting system with an emphasis on mobility and informality, rather than the usual ability to administer death by PowerPoint from a distance.
Nokia's BetaLabs generally turns out interesting, if niche, applications for Symbian-based handsets.
Easy Meet is cross-platform, however, enabling anyone with a mobile browser to experience (and scribble on) your slides and/or images from the comfort of the train, but without the kind of functionality that a native application would allow.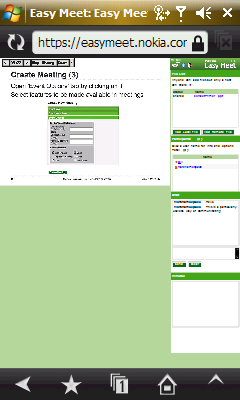 Very nearly usable
Webinars are part of modern life these days: presentations delivered into a web browser and hosted by Webex and its ilk, enabling attendees to entertain themselves in ways that would be impolite if they were physically present while appearing to take an interest in the subject being presented.
Nokia isn't after the business market, where such things are arguably useful, but instead wants to replicate the endless-holiday-slides experience, so you can bore friends and relatives without having to tolerate their presence in your house. BetaLabs even provides a video explaining how to organise a family discussion of Christmas gifts.
Nokia has gone to great lengths to make Easy Meet browser based, but while the basic functionality sort-of works across platforms, as soon as one tries something more interesting, such as scribbling on a slide, the limitations of the browser become obvious. Even on a desktop we found scribbling tricky. On a Windows-mobile device we managed dots, but no lines, while on the iPhone we couldn't get anything at all.
Collaborative working on mobile devices has potential, but mobile browsers aren't yet capable or standardised enough to make it practical, and a set of native applications would clearly be better, though more expensive to develop. But if you fancy sharing holiday snaps with family members while avoiding having to breath the same air, then Easy Meet might be the tool for the job. ®
Similar topics