Toshiba Portégé M750
The tablet PC soldiers on
Review Still alive yet often ridiculed, tablet PCs haven't exactly had the easiest of times since their conception at the turn of the century. HP is attempting to breathe new life into the tablet by aiming its new TouchSmart TX2 at home users, but Toshiba's Portégé M750 takes a more traditional business-oriented approach.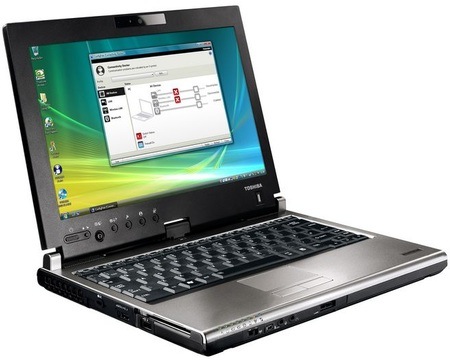 Toshiba's Portégé M750: sturdy
With an Intel Core 2 Duo P8400 clocked at 2.26GHz and 2GB of DDR 2 memory, the M750-10K sits in the middle of Toshiba's M750 line up. As far as physical looks go, very little has changed from last year's Portégé M700.
This does come across as being a little lazy on Toshiba's part, especially since the chassis is by no means perfect - we'll cover this in more detail in a moment. We were also hoping to see improvements in the weight and thickness of the design, but at 2kg and 305mm wide, 239mm deep and 39.4mm tall, there are no changes here.
With its 12.1in, 1280 x 800 LED-backlit screen likely to be swivelled and flipped ad infinitum, a critical part of any tablet PC's design is the hinge that attaches the display to the rest of the chassis. Thankfully, the M750 benefits from a sturdy hinge that refuses to wobble even under a fair amount of pressure. When in standard notebook configuration, two catches at either side prevent the screen from accidentally swivelling. This means you need to make sure the screen's standing perpendicular to the keyboard before attempting to swivel it – expect a nasty crunching sound if it's not.
Shortcut buttons are found just below the screen, allowing you to access them when the notebook is in tablet mode. Next to the power button sits a lock switch, which prevents your wrist shutting down the PC when scribbling notes, while a fingerprint reader lets you log on with a single swipe of a digit - though, as we found, two or three swipes is more likely.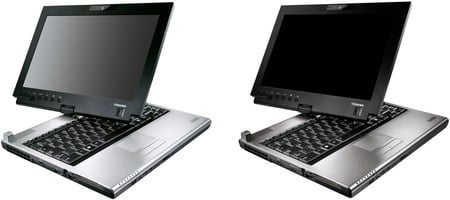 No cosmetic differences between the old M700 (left) and the new M750
A large vent on the left side of the chassis is kept company by two USB ports, one of which moonlights as an eSata port, something the M700 lacked. Elsewhere, the newer ExpressCard format is shunned in favour of an old-style PC Card slot. At the front sits a four-pin mini Firewire port along with mic and headphone sockets, and a good old-fashioned volume control wheel. Wi-Fi - provided by an Intel WiFi Link 5100 card- can also be switched on or off at the flick of a switch here, though if you want to banish Bluetooth you'll need to use the keyboard shortcut.