Garmin has launched a "premium" Nüvi satnav with a large 5in touchscreen, but which is also 25 per cent slimmer than most existing Nüvi's.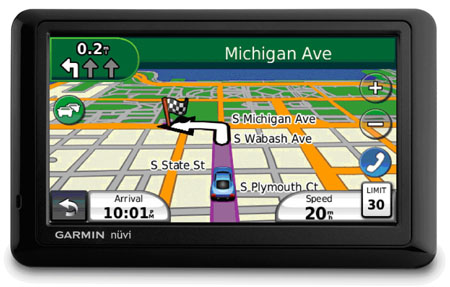 Garmin's 5in Nüvi 1490T satnav
Described as ideal for anyone looking to take advantage of Garmin's newest navigation features, the Nüvi 1490T comes with free traffic alerts – telling you, for example, if there's a jam up ahead - and lane assistance technology.
Its Bluetooth compatibility will even let you use the 1490T like a headset for making and receiving hands-free calls while driving.
You can save 10 routes onto the 1490T and it will also calculate the most time-efficient route for journeys with multiple stops. But if saving petrol's of more interest, then it'll also plot your route according to fuel-efficiency.
Should you be going on a really long distance journey, then the 1490T's time zone transition technology will automatically set the correct time on your behalf. Speed camera warnings are included too.
But if you'd rather go for a walk one day, then the satnav can also support pedestrian navigation – as Garmin's Nüvi 1200 and 1300 models already do.
The Garmin Nüvi 1490T will be available in July, priced at $500 (£335/€380). ®