Sapphire Vapor-X HD 4850 vapour-cooled graphics card
The cooler that turns a Vindaloo into a Korma
---
Review The Sapphire Vapor-X HD 4850 is a reference Radeon HD 4850 with an after-market cooler. That might not sound like a big deal, but Sapphire has come up with something special.
Most graphics card manufacturers try to differentiate their products from the competition and they often use the trick of changing the reference cooler for their own design to add some visual impact. Sapphire has plenty of history in this department and seems to be constantly developing new coolers for its range of AMD ATI Radeon HD-based graphics cards.
The starting point with the HD 4850 is the reference ATI cooler: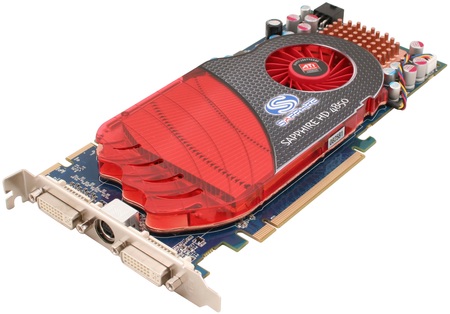 It's very compact. The GPU and memory are covered by a copper heatsink with a slim line cooling fan at the far end that draws air across the heatsink. This allows the HD 4850 to be manufactured as a single-slot design but the downside is that the cooler sheds its heat inside the casing and it runs unpleasantly hot at all times. Once the HD 4850 has warmed up, the GPU operates at a constant 80-82°C regardless of whether your PC is displaying the Windows desktop or working hard playing Crysis.
We measured the temperature of the body of the graphics card at 60°C so we're talking about a hefty slab of metal and plastic that is working hard to heat up the guts of your PC.
Sapphire has made a number of attempts to overcome this antisocial behaviour starting with its Dual Slot cooler: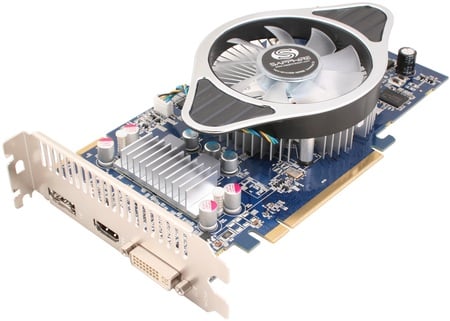 This is a conventional design that locates the heatsink and fan directly over the GPU and the relatively large fan is able to operate quietly while still keeping the HD 4850 under control. As the name suggests, the Dual Slot cooler increases the size of the graphics card but it also does away with the copper heatsink that retains so much heat in the body of the reference graphics card.