Sapphire Vapor-X HD 4850 vapour-cooled graphics card
The cooler that turns a Vindaloo into a Korma
---
That 'explanation' didn't make things much clearer so we buckled down to testing the Vapor-X back-to-back with a reference HD 4850 using a Gigabyte MA790FXT-UD5P motherboard with an AMD Phenom II X4 810 running at 3.25GHz and connected to 2GB of DDR 3 memory.
We started by plugging in a passively cooled HD 3450 and saw an idle power draw of 80W at the mains socket and 120W under load.
Power Draw Results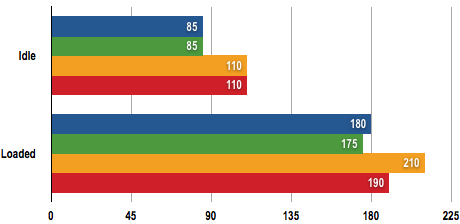 Power draw in Watts (W)
Shorter bars are better

Next we ran the reference HD 4850 at its stock speeds of 625MHz/1986MHz and, later, overclocked to 690MHz/2286MHz. The power draw at idle was 110W, an increase of 30W over the HD 3450, and climbed to 190W at standard speed and 210W overclocked. That's a power draw of 70W and 90W, respectively, for the graphics card under load, which ran at a steady temperature of 80°C.
Switching to the Sapphire Vapor-X was a revelation as the cooler is practically silent. The graphics card runs at the same 625MHz/1986MHz clock speeds as the reference HD 4850 so the performance didn't change but the temperature at idle plummeted to 40°C and only rose to 50°C under load. The power draw for the system dropped to 85W at idle and 175W/180W under load. This means that the Vapor-X draws a mere 5W more than an HD 3450 at idle and 25W less than the reference HD 4850.
Under load the Vapor-X draws 15W less than a regular HD 4850 at standard speeds and 30W less when the two cards were overclocked. This suggests that the standard fan has to work incredibly hard to move air through the single-slot reference cooler.
GPU Temperature Results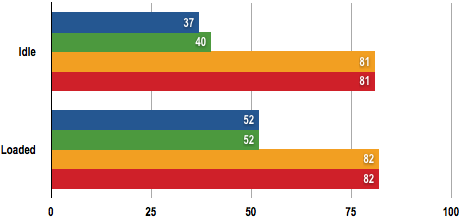 Temperature in Degrees Celcius (°C)
Shorter bars are better

The OverDrive section of the Catalyst drivers wanted to overclock the Vapor-X from 625MHz/1986MHz to 690MHz/2376MHz, which is faster than a reference HD 4850. However the system froze under load until we dropped the memory speed back to 2200MHz. This didn't have a huge impact but it gave the reference card a slight edge in our benchmark tests. Even so, the difference in the power and temperature figures is quite remarkable.