Prepare for Apple's self-resizing iPhone interface
Shake vigorously, stand well back
Apple has filed a patent that could see the iPhone and iPod touch interfaces adjust the size of their elements in response to motion.
The filing, entitled Variable Device Graphical User Interface, describes a self-adjusting user interface that would make it easier to hit the right touch-screen commands when walking, jogging, riding in a car, or at any other time when you're bouncing up and down or swaying side to side.
At times such as those, touching the correct tiny icon or list item is more problematic than when you - and your device - are standing still. The filing describes a system in which an accelerometer, gyroscope, or proximity sensor can sense your movement and enlarge those interface elements so that, to paraphrase Elvis Costello, your aim is true.
In addition to merely enlarging the size of elements, the filing also describes how the touch screen could increase the amount of pressure needed to initiate a command, thus preventing that "Damn, I didn't mean to do that!" moment that can occur when your finger accidentally glances off the wrong area of your bouncing iPhone.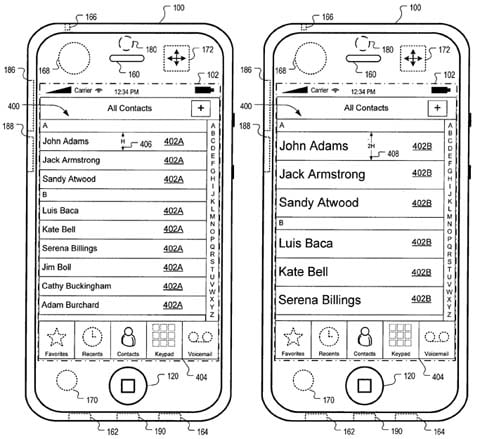 On the left, a standard iPhone interface. On the right, the interface while jogging
More sharp-eyed and steady-handed users could also set their own personal preferences as to the amount of motion needed before the size adjustment would take place.
Also, the device could learn from your mistakes. For example, if you frequently exit an app immediately after accessing it, the system will assume that you're a clumsy bozo who is frequently missing your target, and adjust itself accordingly. And if you consistently miss in the same direction, the system will scoot the interface icons' touch sensitivity in that direction.
In typical Apple-patent inclusiveness, the filing applies not merely to devices such as the iPhone or iPod touch, but also to "a handheld computer, a personal digital assistant, a cellular telephone, a network appliance, a camera, a smart phone, an enhanced general packet radio service (EGPRS) mobile phone, a network base station, a media player, a navigation device, an email device, a game console, or a combination of any two or more of these data processing devices or other data processing devices."
In addition to the motion-sensing interface that's the topic of the patent, there are a few other tantalizing tidbits hidden in the 16-page filing released Thursday by the US Patent and Trademark Office.
For example, it twice mentions WiMAX as a network-connectivity option - a first in our experience of filings related primarily to handheld devices. It also specifically refers to the handheld as being able to be "configured as a base station for one or more devices" and able to "grant or deny network access to other wireless devices" - which may be why the otherwise-puzzling "network base station" is mentioned in the list of covered devices, above.
Finally, there are two other oddities - one which may very well be a typo and the other being a red herring. The probable typo is a reference to "a 36-pin connector that is compatible with the iPod," when both the iPod and the iPhone have Apple-standard 30-pin connectors. We doubt that this refers to an upcoming change in that multi-year 30-pin standard - but with Apple, one never knows, now, does one?
The aforementioned herring is the inclusion of what at first blush appears to be a camera lens (number 180 in the illustration above) on the face of the iPhone - a feature many iPhone aficionados have hoped for as a video-conferencing and self-portrait enabling addition.
Unfortunately, the filing specifically refers to the camera as being "located on the back surface of the mobile device," and in the illustration it's drawn with dashed lines - standard operating procedure for indicating an element that's either inside a device or on its reverse.
Those of us who are waiting for a front-mounted iPhone camera will have to keep waiting - although at the rate that Apple pumps out patents, our wishes may be fulfilled sooner rather than later. ®