Storage systems slot into Vegas line-up
Nehalem RAID among NAB debut
---
A broad array of storage devices - from an 8U storage server powered by dual Intel Xeon 5500s to a multi-slot memory card reader/writer with four eSATA ports - will debut at next week's National Association of Broadcasters' 2009 NAB Show in Las Vegas.
The just-released Stirling X888 scalable storage server from Aberdeen is the aforementioned Xeon-powered beast, which couples dual Xeon 5500-series processors with an Intel 5520 Tylersberg chipset. Starting at 48TB, the X888 can be expanded to - as the company puts it - "well over 400TB" with Aberdeen's XDAS expansion enclosures.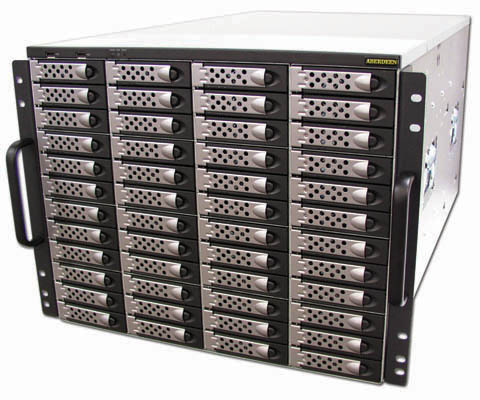 Not all Xeons 5500s end up in servers - this Aberdeen storage system has a pair
On-board SAS is run by an LSI 1068E eight-port controller, and LAN access is handled by a quad-port gigabit ethernet LOM (LAN on motherboard). Twelve 240-pin DIMM sockets (six per Xeon) can hold up to 96GB of DDR3 SDRAM, providing up to 32GB/sec of memory bandwidth. The X888 also includes seven PCI slots - one PCIe 2.0 x16, two PCIe 2.0 x8, one PCIe x4, and two old-world PCI 32bit/33Mhz.
An Aberdeen spokesperson told The Reg that the X888 in a 50TB configuration "comes in under $20k." You can check out pricing for other configs here.
Three new systems will also be shown by Enhance Technology. The 2U six-bay EnhanceRAID TS2060 rackmount series includes the dual gigabit-ethernet iSCSI TS2060-IP RAID, as well as the TS2060-SS SAS, which the company claims can deliver 350MB/sec over its SFF-8470 SAS port. Options for both include a tape drive, CD/DVD player/recorder, and connection over eSATA to the company's "military grade" IS210 external HDD enclosure.

If you simply must have a Quantum DLT tape drive, Enhance can provide
Enhance will also be introducing its StorPack S23T/S34T/S35T removable drive-tray desktop series, available in three, four, and five drive configurations. If an industrial-strength desktop RAID could ever be considered sexy, this series might contend for that adjective.
The final new piece of mega-kit from Enhance is the rackmountable UltraStor RS16 FS. This 16-drive, 4Gb fibre channel system includes SAS expansion ports for hooking up to - or daisy-chaining - the company's RS16 JS host-dependent JBOD storage system.
Long-time storage system survivor ATTO Technology will introduce three new controllers and host adapters. The 8Gb/sec fibre channel FastStream SC 8500 is designed to provide 1.4GB/sec connectivity and RAID protection among workstations or SAN and non-RAID storage, obviating the need for a dedicated fibre channel switch.
ATTO will also introduce the Celerity 8Gb/sec fibre channel host adapter, with performance parameters tunable using the aptly named ATTO Configuration Tool, which runs on Windows, Mac OS X, and Linux.
The third ATTO newbies are the ExpressSAS SAS/SATA RAID adapters, which the company claims are the "industry's first 6Gb/s SAS/SATA host adapters." Available in eight and sixteen port models (either external or internal, or four internal and four external), the ExpressSAS supports RAID levels 0, 1, 4, 5, 6, 10, 40, 50 and 60, and includes ATTO's DVRAID technology designed to facilitate and protect digital-video editing.
Finally, Sonnet Technologies is introducing the impulse-buy item of the show, at least for professional photographers: the Qio memory card reader/writer. The company claims that the Qoi can read and write to "just about every memory card" - which isn't unusual in this multi-card age. What does make the Qio especially attractive are its four eSATA ports. ®