This article is more than 1 year old
King Larry launches Oracle-Sun combo at Big Blue, Cisco
Big Red wants a piece of HP, too
Analysis It was not a very auspicious beginning to the merger of two tech giants. Oracle just couldn't seem to get its phone lines and Webcast in order to do the actual announcement of its $5.6bn acquisition of server maker Sun Microsystems.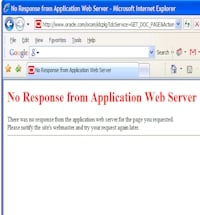 Or, perhaps this explains it all. I guess Oracle needed some Sun servers a little more quickly than it might have thought, eh?
With the Webcast unavailable and the phone lines at Oracle's conference call system all snarled up, I was spared the often condescending yet always dulcet tones of Larry Ellison, co-founder and chief executive officer of Oracle, and Jonathan Schwartz, president and chief operating officer at Sun, for which I suppose I am grateful. (Until I have to circle back and listen to the replay of the press conference to finish this article.)
I am also grateful that the month-long saga between IBM, which flirted with the idea of buying Sun for more dough and then less than Oracle is shelling out, and Sun is over. It was painful to contemplate the crashing of the East coast IT giant with the upstart West coast former giant (at least in terms of influence and market capitalization a decade ago). Sun and IBM mixed like oil and water. Oracle and Sun, the two original Silicon Valley IT startups (and no, Hewlett-Packard, oscilloscopes don't count as IT) and the two darlings of the dot-com boom, will mix something more like vinegar and oil - you can whip it up into a colloid, at least.
Sun is a much more natural fit inside Oracle, but it is a deal that should have never had to happen in the first place, and if anything, looking back a decade ago, Sun should have acquired Oracle and then did the run on the application and middleware software space as a much larger and stronger organization.
For Sun, the Oracle acquisition happening today does two things. First and foremost, it stops all the talk about the Bigger Indigo deal, particularly the muttering about lawsuits because Sun turned down the offer that IBM made a few weekends ago for around the same amount of money. With IBM reporting its financial results for the first quarter of 2009 today after Wall Street closes, Big Blue was going to have to say something about the deal, and with Sun reporting its fiscal 2009 third quarter results next Tuesday, people were going to have plenty of time to think about whatever IBM might say. Now, IBM won't say jack about the deal and Sun doesn't have to, either.
That said, if IBM was gambling that Sun would somehow become damaged goods after Big Blue made a run at it, and thereby be busted up, that gamble does not seem to be paying off. Sun and Oracle together will (eventually) be stronger than the two apart. And the IT giant may eventually not only rue the day two decades ago when it decided to get out of the application software business to be a kind of platform Switzerland, but that Oracle has now built up the kind of systems business that IBM once had: an integrated stack of systems, systems software, and application software that comes in a number of different flavors to suit different customers' histories and proclivities. Rather than calling is Sunoracle or Oraclesun, perhaps Big Red is in order. Especially once Oracle acquires Red Hat. But let's not get too far ahead of ourselves.
Oracle is buying Sun to get ahold of two key software assets - the Solaris variant of Unix and the Java language and application environment that Oracle has itself staked its application future upon.
Buying Sun also means getting a whole bunch of Sparc and x64 servers, various disk and tape storage products, a slew of open source projects, and an army of hardware and software engineers and researchers. These are not things that Oracle has needed to date, but it looks like Oracle will be positioning itself as a top-to-bottom systems provider, much as IBM has always been, HP sometimes is, and as Cisco most certainly wants to become.