Review With the digital Armageddon crossover almost upon us – or actually upon us in the case of anyone living in South Devon or the Borders – never has their been a better time to take a look at an affordable, easy-to-use, jack-of-all-trades Freeview tuner that even the most technophobic in society can get to grips with. That would be the TVonics MDR-250, then.

TVonics' MDR-250: slimline
Why? Because alone of all the set top boxes available in the UK, only the MDR-250 has been awarded full marks by switchover oversight body Digital UK for ease of use, energy efficiency, performance and connectivity. More to the point you can now pick the unit up in John Lewis and Comet for less than 40 quid, TVonics kit previously not being all that easy to find on the high street.
For the money, the MDR-250 is a rather nice looking box of tricks. It feels solidly made - from an attractive mix of matte and gloss black plastic with a shiny silver TVonics badge on the top. At only 196 x 89 x 31mm, finding a place for it to sit on or next to your telly shouldn't be a problem.
Surprisingly at the price point – and considering how nice the 250 looks – TVonics also supplies am infrared extender so you can hide the box away with the extender peeping out to pick up the signal from the remote control.
As with most Freeview boxes, set-up is very straightforward: just plug everything in and away you go, though that shouldn't obscure the fact that TVonics supplies the MDR-250 with a very well-written and comprehensive illustrated user guide. When first hooked up, the unit locked onto all 85 available Freeview TV, radio and data channels in a little under 55 seconds which was pretty good going.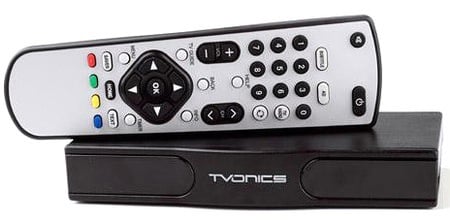 The remote's well designed
The remote control handset is another reason Digital UK get so gooey over the MDR-250. Called an 'Easy Grip Remote' by TVonics, it's nearly as big as the 250 itself and is an excellent piece of design with large, easy to find buttons and clear, self-explanatory labelling that should make granny's life that bit easier.